Alleppey is one of Kerala's most popular backwater locations, and backwaters in Alleppey is one that should not be overlooked in any manner! This beautiful city, located on the banks of the prismatic Vembanad Lake, is the 'Mecca' for backwater tourists on a Kerala trip! Alleppey is a visitors' paradise, surrounded by lush coconut groves, embellished with infinite lagoons, and caressed by the charm of silent backwaters! This city is one of Kerala's most famous backwaters attractions due to its swaying beauty and mesmerising charm. Everyone can visit this lovely destination and create nice memories with their friends and families, whether they are leisure seekers, honeymooners, adventure seekers, or people from all walks of life. Visitors to should also take Alleppey houseboat tours around the Vembanad Lake to appreciate the pristine beauty of the backwaters.
Kuttanad is one of Kerala's most picturesque backwater getaways. Kuttanad is known as Kerala's "Rice Bowl" because of its lovely lush green beauty and intriguing countryside. It's a small green paradise that promises to provide you with a memorable vacation. Kerala's numerous waterways, rivulets, canals, streams, channels, and lakes provide an ideal setting for a spectacular backwater cruise excursion. Float through lush paddy fields on a luxurious houseboat and view a variety of colourful water birds on the banks of the waterways, as well as residents going about their daily lives and waving at you as you pass by. As you cruise through the backwaters in Alleppey on a houseboat, listen to the calming sound of flowing water. 
Pathiramanal, a small island off the coast of Alappuzha (Alleppey), is a home for hundreds of unique birds migrating from all over the world. It's a picturesque island in Kerala encircled by the Vembanad Lake, located between Thanneermukkom and Kumarakom. Pathiramanal is a great place to visit if you want to spend your vacation surrounded by emerald green backwaters and coconut trees.'Pathiramanal' means 'Night Sands.' According to estimates, the area is home to 91 native bird species and 50 migratory birds. Hundreds of endangered migrating birds have found a safe home on this small island in the backwaters.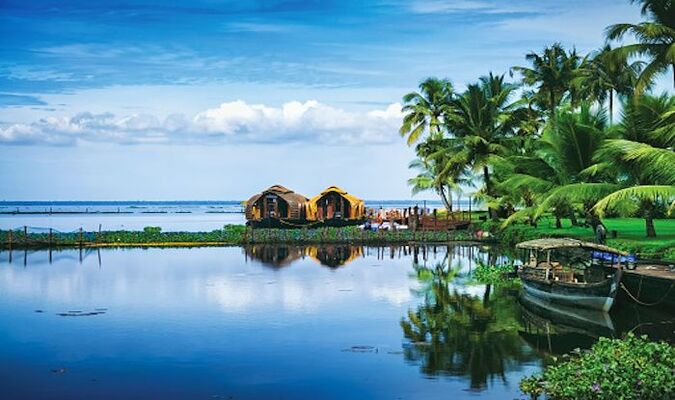 The sapphire and emerald hues of Vembanad Lake are seen. The image of emerald green coconut fringes surrounded by sapphire-colored backwaters is a visual delight. Vembanad Lake is India's longest and widest lake, measuring 96 kilometres in length and 14 kilometres in breadth. It is also Kerala's largest water reservoir. It is also at the heart of Kerala's backwaters. People travel from all over the world to take a boat trip and enjoy the picturesque splendour of the backwaters. Canoes and houseboats are the greatest options for traversing Vembanad Lake's length and breadth. The pace of life at Vembanad Lake is extremely sluggish. The quiet, tranquillity, and aquatic animals that reproduce in Vembanad Lake are well-known. Tourists can take a houseboat cruise on Vembanad Lake to the Kumarakom Bird Sanctuary and small islands, where they may view rice plantations, hyacinths, traditional fishing, and an incredible sightseeing experience. During the temperate season, tourists can also see fascinating yet beautiful avian species that are thriving. The lake is nothing short of a fruitful ride for photographers who want to see nature in its purest form.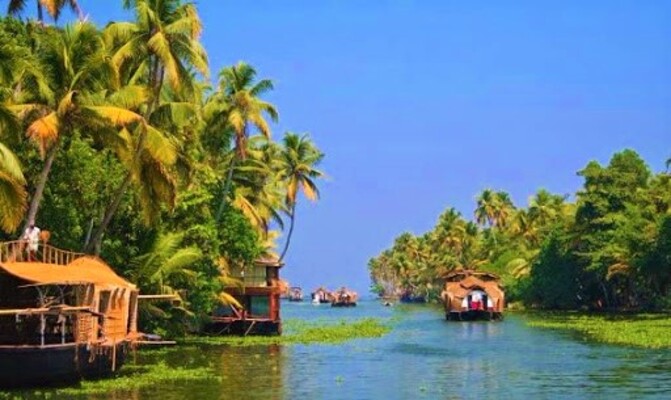 A broken lagoon between the Karthikpally and Panmana, is Kayamkulam Lake. This is a well-known backwater attraction that links Kollam and Alappuzha. It is widely regarded as one of Kerala's most beautiful and magnificent tourist spots. The lake empties into the Arabian Sea's gorgeous seas. The Kayamkulam boat race is held here, and this Kayal connects the Vembanad and Ashtamudi lakes. As part of the new fishing harbour being built, it now has a permanent outlet to the Arabian Sea. A large number of backwater tourists visit this tiny water area to pass the time. In any season of the year, Kayamkulam lake can be visited however from November to March it is the greatest time to come due to its peace and pleasure. In the evening, you should visit this place and never miss the best sunsets ever in your life.
The Punnamada Lake is a site of Vembanad Lake, known mostly as Punnamada Kayal. The famed Kerala Annual Nehru Trophy is also held in Punnamada Lake areas. In Alappuzha district the lake is spread across the Kuttanad region. The location is surrounded by beautiful landscapes and is surrounded by vast cocoon trees and noodle trees. The three main Kerala Islands are Pathiramanal Lake, Perumbalam and Pallippuram. Lake Punnamada is the only one in the world. The islands lie on the broadest region of the lake, where the width of the lake is around 14km. The lake extends from the Alappuzha to the Azheekcode from the south of Vembanad Kayal.