The light glinting off the ocean evokes images of skipping rocks on a calm sea. As the chilly waves lapped against the sand, the sky was tinted pink and purple. Stunningly magnificent, jaw-droppingly beautiful, and the most lovely orange and pink sherbet coloured sky. Make the environment more beautiful. There is no limit to how much fun you may have on vacation. Here are some of the beautiful Kasaragod beaches..
The backwaters, forts, and picturesque beauty of Bekal Beach are well-known. It's a little region on the Arabian Sea's coastlines that's famed for its unrivalled appeal. It's home to a variety of attractions and provides guests with ideal traditional Keralite hospitality. The spectacular setting is further enhanced by a stunning vista of the sun, sand, sea, and swaying palm palms that line the beach. Bekal is an ideal tourist destination, known for its beautiful splendour, which attracts travellers from all over the world. The old and spectacular fort of Bekal is commemorated by the seashore of Bekal. Bekal Beach, an attractive site in Kerala's "God's Own Country," is a veritable paradise for nature lovers, photographers, and wanderers. 
Hosdurg Beach is a wonderful spot to visit with family and friends because it is rich in flora and fauna. Casuarina orchards can be found all along the seashore. Although Hosdurg Beach is close to Bekal Fort, it is not as congested as Bekal Beach. The beach is sand-covered, and there are a few thatched-roof homes. A sight to behold is nesting turtles slithering onto the beach to lay their eggs. There are a few little cabins scattered along the beach where you can spend the night.
Kappil beach is a lovely beach-backwater destination, and if you're looking for a golden slice of heaven, head to Kappil beach, which is considered one of Kerala's best kept secrets. A sun-drenched beach with golden sands, surrounded by the Arabian Sea's glistening seas and dense forests of casuarina trees, makes this a captivating location. If you want to see a panoramic view of the Arabian Sea, you can climb the neighbouring Kodi cliff. It's truly a sight to behold and a must-see destination for visitors. People are increasingly seeking large expanses of virgin sand with a heavenly water body in front of them, with no other distractions.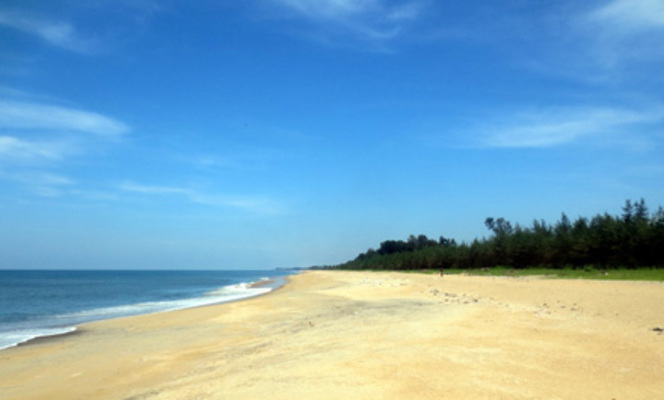 Kanwatheertha Beach, located about three kilometres from Manjeswaram town, is a swimmer's paradise. The quiet beach features a little lagoon that appears to be a vast swimming pool from afar. In this tranquil setting, a swim in the lagoon is quite delightful. Its expansive beach is ideal for relaxing, soaking up the sun, and enjoying a delicious picnic. People may be seen taking a relaxing dip in the pool, while families can be seen strolling around joyfully, taking in the pleasant weather and beautiful scenery.
Azhithala, 25 kilometres south of Bekal, is where the Tejaswini River empties into the Arabian Sea. Azhithala beach is calm and isolated, with casuarina trees strewn around. It's a great spot to unwind and take long walks. Nileshwar, Azhithala Beach is one of the first things that many people think of when they think about Nileshwar. There are plenty of other intriguing sights and activities to see and do as well. However, the Azhithala Beach in Nileshwar, like all other attractions, has its own distinct appeal. In fact, countless visitors can't seem to get enough of the location.