Thiruvananthapuram is made much more appealing by the presence of numerous well-known palaces. The government has converted a handful of these palaces into museums so that tourists can see the home equipment and other accessories utilised by the royal family at the time. Let's take a peek at a handful of palaces in Trivandrum.
Maharajah Sree Chithira Thirunal Balarama Varma erected Kowdiar Palace in Trivandrum, Kerala, India, for the Pallikettu (wedding) of his only sister, Maharani Karthika Thirunal Lakshmi Bayi, with Lt. Col. G. V. Raja in 1934. Following the 1971 Constitutional Amendment, the royal family's holdings and estates were partitioned and shared equally among the branches of the two Travancore Queens, Sethu Lakshmi Bayi and Sethu Parvathi Bayi. The heirs of Sethu Parvathi Bayi own this palace, which was erected by her son Maharajah Sree Chithira Thirunal. 
It is the epitome of Kerala-style architecture. This palace, located in the centre of Trivandrum, includes around 150 rooms, three floors, a wooden elevator, and six steeples. Tourists are not permitted to enter the Kowdiar palace. Kowdiar Palace is the private house of the Travancore family. Their family gatherings take place here. The general public is not permitted here. From the gate, we can admire the splendour of this Royal palace.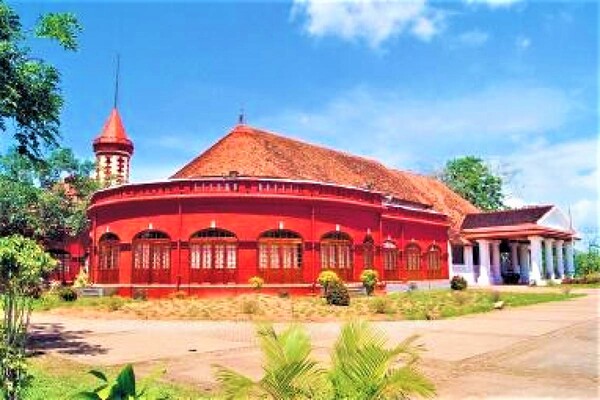 Kanakakunnu Palace is located in Thiruvananthapuram. This was created for the then Maharajah of Travencore (modern-day Kerala), Sree Moolam Thirunal, and is located near the Napier Museum. He ruled from 1885 to 1924, therefore the palace would have been erected in the late nineteenth or early twentieth century. It was initially utilised for state dinners and significant visitor accommodations. Despite its red brick and white stone decorations, the palace is more plainer than the decorative Keralan-Gothic style of other older Victorian-era buildings, distinguishing itself by its low, sweeping form and the contrast between the rounded hall at one end and the length of the sides.Except for Monday, the Palace is open to the public from 10:00 a.m. to 5:00 p.m. every day of the week.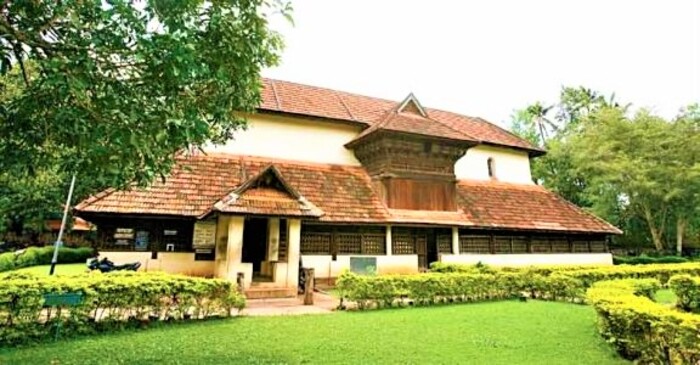 Koyikkal Palace, located 18 kilometres from Kerala's capital city of Thiruvananthapuram, is a popular tourist destination where history sleeps in all its immaculate grandeur. The palace is a two-story structure built in Kerala's traditional nalukettu architectural style, with sloping gabled roofs and spacious chambers arranged around an open central courtyard. Between 1677 and 1684, the Koyikkal Palace in Trivandrum was built for Umayamma Rani of the Venad Royal Family. However, it is now well-known as a Folklore Museum and a Numismatics Museum. Its one-of-a-kind antique collection provides a significant glimpse into Kerala's past and draws visitors from all around the state on a regular basis.
The Numismatic Museum is another one-of-a-kind attraction where visitors may explore its rare coin collection and learn about Kerala's previous trading links with a variety of countries. It has some of Kerala's oldest coins, including Ottaputhen, Erattaputhen, and KaliyugarayanPanam. A unique coin given to Jesus Christ himself, Amaida, is also housed here. Karsha coins dating back 2500 years, Rasi coins (the tiniest in the world), Roman Empire coins, and coins used by a wide range of Indian dynasties may all be found here. It is a true historical treasure trove.The Folklore Museum, inaugurated in 1992, is located on the palace's first level. The artefacts on show, which include industrial tools, domestic appliances, musical instruments, and folk art representations, provide a microcosm of Kerala's rich cultural legacy.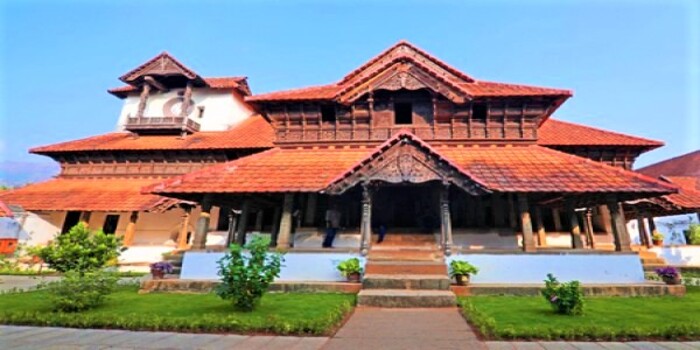 The history of Padmanabhapuram Palace dates back to the 1600s. During the reign of Iravi Varma Kulasekharan Perumal, it was constructed. The great palace, Kalkulathu Koikkal, is at its heart. In historical sources, it was also known as Darpakulangara Koikkal. Inside the Palace, there are numerous additional magnificent views. The Durbar Hall is a rare architectural marvel, with its gleaming black floor constructed of egg white, jaggery, lime, burnt coconut, charcoal, and river sand. Secret underground passageways, the famous medical bed in the King's chamber, mural paintings, portraits of Lord Krishna, a temple devoted to Goddess Saraswati, open air swimming pools, fish carvings, and hanging brass lanterns are further features of the site.
Padmanabhapuram Palace in Trivandrum is open from 9 a.m. to 4:30 p.m. Except for Mondays, it is open every day of the week. On national holidays, it is also closed. Visitors are obliged to remove their shoes before entering the palace. To preserve the polish of the palace flooring, no footwear is permitted.