Kerala has some of the best architecture in India, with temple architecture being one of them. Kerala's Hindu temples have stood for hundreds of years, built by the monarchs who previously controlled this region of India. Even now, their magnificent facades never fail to surprise tourists, and the deities housed within are highly venerated. Even all those years ago, the temples were built using scientific engineering, which is why they still remain tall and powerful after all these years. If you are an atheist, visiting Thiruvananthapuram will not convert you to a religious person, but it will instil in you an appreciation for the people's enormous love and reverence for their gods. Some of the popular pilgrims in  trivandrum are here.
Sree Padmanabhaswamy Temple
It is one of the famous Pilgrims in Trivandrum. The Temple of Sree Padmanabhaswamy's origins are lost in time. From any authentic historical papers or other sources, it is impossible to identify when and by whom the first idol of Sree Padmanabhaswamy was consecrated. This temple combines Kerala and Dravidian architectural elements. It is thought to be the richest temple in the world. Aside from the established spiritual and structural qualities, the 10 traits listed below increase the status of a temple to that of a Mahakshetram (Great Temple). They are antiquity, the presence of records, historical significance, origin in a forest, proximity to an ocean, elevation, royal ties, mention in ancient literatures, architectural splendour, and festival grandeur. All of these characteristics are met by the Sree Padmanabhaswamy Temple.
The temple building is notable for its use of stone and bronze. Beautiful paintings and murals embellish the temple's interiors. Some of them are life-size images of Lord Vishnu in a reclining pose, Narasimha Swamy (Lord Vishnu's half-lion, half-man incarnation), Lord Ganapati, and Gaja Lakshmi. The temple boasts an 80-foot-high dhwaja stamba (flag post) coated in gold-plated copper sheets. A large corridor with 365 and one-quarter sculptured granite-stone pillars with magnificent sculptures extends from the eastern side into the sanctum sanctorum. The nataka sala (literally meaning drama hall) is a ground level underneath the main entrance on the eastern side, where Kerala's classical art form – Kathakali – is performed during the temple's annual ten-day festival held during the Malayalam months of Meenam and Thulam. 
Attakul Bhagavathy Temple
The principal deity of the Attukal temple, which is located in the centre of Thiruvananthapuram city, is Goddess Bhadrakali (Kannaki). According to Hindu mythology, Bhadrakali is the Goddess of Prosperity and Salvation. The temple is well-known for its Pongala festival, in which rites are conducted solely by women in order to satisfy the Goddess. The festival has been inducted into the Guinness Book of World Records for having the largest gathering of women in a single location. The temple construction combines traditional Tamil and Kerala architectural elements. The temple also has beautifully carved sculptures of Goddess Kali, Sree Parvathy, Lord Shiva, and the ten incarnations of Lord Vishnu.
Pazhavangadi Ganapthy Temple
Dedicated to Lord Ganesh, who is the principal deity worshipped here, there are also other gods and goddesses that receive prayers and sacrifices, such as Dharmasasta, Goddess Durga, and Nagaraja. The temple, like many other pilgrims in Trivandrum, has a rigorous dress code, with men required to wear a Mundu or a Dhoti and go bare-chested. It has to be a saree for the ladies. The major offering presented to Lord Ganesh is a broken coconut outside the sanctum. The inside walls of the temple are sculpted with sculptures showing 32 distinct forms of Lord Ganesh, including Bal Ganpati or the kid Ganesh, Vira Ganapati or the courageous one, and many others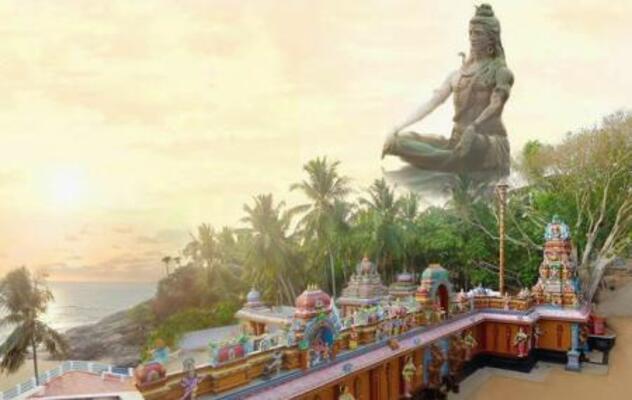 This temple is devoted to Lord Shiva and located only 20 kilometres from Trivandrum's major city. It is located at Kovalam on the Poovar islands. The temple is not as huge as the others, but its location overlooking the Arabian Sea lends it a magical aura. The sound of water hitting rocks outside can be heard inside the temple, creating a very relaxing atmosphere that is very pleasant to the devotees. Even if one is not a devotee, it is a recommended destination to visit in Kerela due to its magnificent position and the gorgeous landscape where it is located.
Karikkakom Chamundi Devi Temple
This pilgrims in Trivandrum architecture is entirely in the Kerala style, which makes it quite stunning. The temple is located on the outskirts of Trivandrum, and there are three different versions of Chamundi Devi worshipped here: Maha Chamundi, Bala Chamundi, and Raktha Chamundi. In Hindu mythology, the Goddess Chamunda is both revered and dreaded. An idol constructed of panch- loha, or five different kinds of irons, is likewise considered sacred. Thousands of women from neighbouring villages flock to this temple throughout the months of February and March to make their Pongal offerings. Outside the temple, a parade is held in which the Goddess is brought in a gold chariot.
This temple is dedicated to Goddess Durga and is about 10 kilometres from Trivandrum. The Kaliyootu Mahorsavam, a well-known festival, is conducted here every three years. It is said that the Goddess grants everyone's requests, and that those who want a child come here to pray in particular.
The Lord Hanuman temple in Palayam, Trivandrum, is around 5 kilometres from the East Fort. It is the most important Hanuman Temple in Kerela. The temple is on the same street as the Legislative Assembly. Devotees come to this shrine to pray for strength and integrity. It is said that worshipping Lord Hanuman, also known as Sankatmochan, will alleviate one of all troubles.