Rituals adoring the gods are bound to be related in pilgrims of all types, but as such, they erode the borders of ethnicities and religions by becoming gigantic festivals. Some characteristics of the cultural and spiritual capital of this southern State of India are the temples, museums, churches, art centres and beautiful nature, for which Kerala is recognised world wide. One of these is the Thrissur Pooram Festival, celebrated in Lord Shiva's temple in Vadakkunnathan. Here some of the pilgrims in Thrissur:
The Vadakkunnathan Shiva Temple is located in Thrissur District, Kerala's cultural hub, and is directly in the heart of the city. Vadakkunathan! Lord Shiva was given this name in the city of Thrissur, Kerala, India. Lord Parasurama built the Vadakkunnathan temple as the first of his temples. The temple is situated on a hillock in the middle of Thrissur city and is built in traditional Kerala style architecture. The temple, which stands towering in the middle of 9 acres of ground, does not fail to attract the attention of passers-by. The temple has four gopurams, or gates, facing East, West, North, and South, respectively. The temple is noted for the unique murals depicting incidents from the Mahabharatha, including Vasukishayana and Nrithanatha, who are worshipped on a daily basis. Aside from the murals, the temple also includes a museum with antique paintings, woodcarvings, and other antique pieces of art.
Basilica Of Our Lady of Dolours
Our Lady of Dolours is a patron saint of dolours. Syro is Asia's third tallest church, known for its stunning Gothic architecture and exquisite Indo-Gothic interiors. This iconic attraction, which is located in the heart of Thrissur City, Kerala, was erected in 1814 on a 25,000-square-foot plot with lavish interior decorations. The Gothic-style church was finished after 11 years of construction, which began in 1929. At any given time, the church can hold up to 30,000 people. The church features five tiny altars in addition to the main altar. The Bible Tower is a distinctive feature, featuring murals depicting various stages of Christ's life. The bell tower houses eight German-made bells. The primary event of the year is the Feast of St. Mary, which takes place in September. This is Thrissur's most well-known Marian pilgrimage site.
Guruvayur Sree Krishna Temple
The historic Sree Krishna Temple, often known as the Dwaraka of the South, is located in Guruvayur. It is one of Kerala's and the country's most revered and popular pilgrimage attractions. In 1638 C.E., the central shrine is thought to have been renovated. Inside the shrine, the architectural style and individual pieces are lovely reflections of the place's history. Lord Krishna, also known as Guruvayoorappan, is the temple's main deity, who is dressed in a sacred Tulasi garland and a pearl necklace every morning. His idol resembles a dazzling image of Lord Vishnu, who bestows blessings on his believers.
Paramekkavu Bhagavathy Temple
This is one of Kerala's largest Bhagavathy temples, located near Paramekkavu, Thrissur District, on the borders of the Vadakumnathan temple grounds. Devi Vaishnavy, an avatar of Goddess Durga, is the major goddess here. This is one of Kerala's largest Devi temples, as well as one of the temples that participate in the famed Thrissur Pooram festival. A procession of fifteen adorned elephants walks from Paramekkavu to the Vadakkumnathan temple, where the Pooram festival is held, as part of this celebration. A great number of people flock to this location to witness this joyous occasion, which is both mesmerising and thrilling.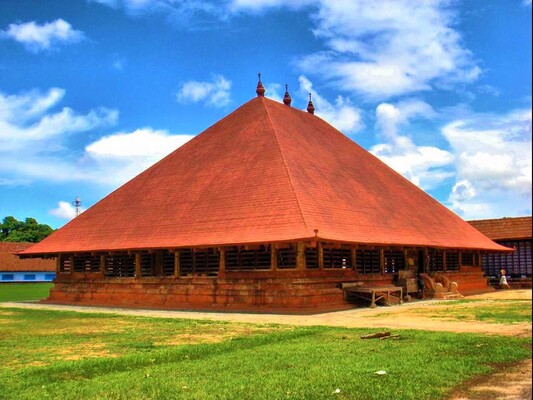 The Koodal Manikyam temple, located in Irinjalakuda, is a well-known temple with magnificent Kerala-style temple construction. The Koodalmanikyam temple, around 20 kilometres from Thrissur, is devoted to Lord Bharatha, Lord Rama's brother in the epic Ramayana. It is maybe India's only temple having Bharatha as the presiding deity. The Irinjalakuda Koodal Manikyam temple's architecture is stunning, and it's a great place to see Kerala Vasthuvidya in action. It is one of the state's largest temples, with golden dwaja and pancha prakaras.  The Gopuram, Anakottil at the east and west entry ways, Sreekovil, Nalambalam / Valiyambalam, koothambalam, Vilakkumadam, and Namaskaramandapam are all built according to Vasthu. The golden flag mast, golden thazhikakkudams, and copper-covered namaskaramandapm and sreekovil all contribute to the temple's majesty. It does not have a balikkalpura, unlike other Kerala temples.
Arattupuzha is a historically significant village in Kerala's Thrissur district. This village, around 15 kilometres from Thrissur, is known for the Arattupuzha Pooram, an annual pooram celebration held in April/May. This temple, dedicated to Lord Ayyappa, is thought to be around 3000 years old. Many gods and goddesses are said to visit this temple throughout the festival season, according to devotees. This temple's ceremonial processions are truly colourful and unusual. Despite the fact that the annual event lasts for seven days, the last two days are the most important. The procession contains images of deities from 41 villages in the vicinity of Arattupuzha.
St. Thomas Syro Malabar Church
This church's fascinating history and magnificent structure make it one of Kerala's most visited cathedrals. It was founded in 52 AD by St. Thomas, who is thought to be one of Jesus Christ's twelve apostles, and is located in Palayur, Thrissur district. The church is known as an Apostolic Church, and it is one of the oldest in India. It is one of seven churches founded by St. Thomas in India. It is a very active Catholic church, with over 3.8 million members, second only to the Ukrainian Church, which has around 4.5 million members. The church has a mix of Hindu architectural style and Persian Church layout, with the roof rising like a tower above the nave, due to the fact that it was built incorporating an existing Hindu temple that was forsaken. This church's entrance was designed to seem like a Hindu Mandapa. When Tipu Sultan entered Kerala in the 18th century and the church was destroyed by fire, the entire structure was rebuilt.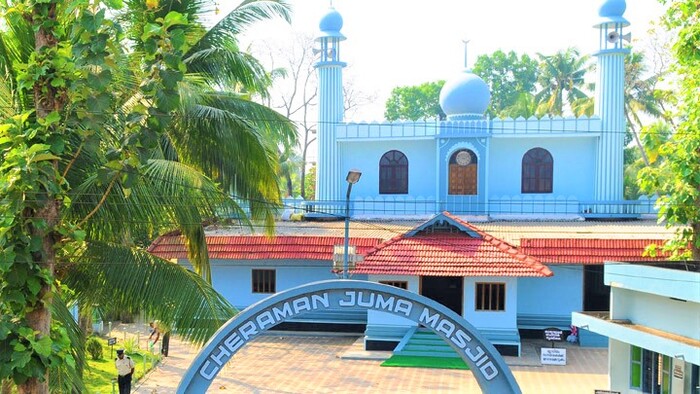 Cheraman Juma Masjid is an old mosque in Kerala's Ernakulam district, around 2 kilometres from Kodungalloor town. It is said to be the country's first mosque, having been constructed in the seventh century. Cheraman Juma Masjid appears to be a traditional Hindu temple at first appearance, and this historic site continues to attract enormous crowds of worshipers. It is also a symbol of the state's centuries of peaceful coexistence with religions, as well as the thriving trade between India and the Arab world. The mosque's interiors still have Hindu elements and brass oil lamps.