Here some of the wildlife sanctuary and parks in kollam
Asramam Adventure Park is a theme park located in the heart of Kollam, Kerala. It was built on 48 acres of city-owned land after 1980. This location is popularly known as Asramam Picnic Village and is located next to Kerala's pride, the backwaters of Ashtamudi. It is the primary hub for recreational activities in Kollam.
This parks in Kollam encompasses a location with several rides and beautiful landscape, making it ideal for a family picnic. The allure of the backwaters allows visitors to experience houseboat cruises, premium boats, and speedboats in the midst of tranquil waters. Aside from the boat club and children's park, this location has attractions such as a 200-year-old government guest house and Yatri Nivas.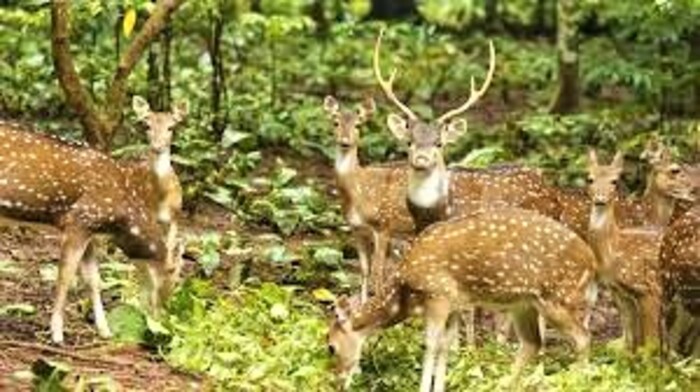 Deer Park is an ecotourism park in Thenmala located in the dense forests of the Kallada river side forest. The park, which is densely forested, is home to a huge population of free-roaming deer. With its tinkling waterfalls and rope swings, the park is ideal for picnics and having a good time. Various walking routes into the trees may be seen, and if you have a group of people with plenty of time to spend here, going into the park forests is not a bad idea. What you will definitely see in these forests are large trees of the Western Ghats, most of which have a name board set by the park administration, so you won't be disappointed if you don't know what tree this is. Barking deer (Kezha Maan in Malayalam), Sambar deer (Mlave), and Spotted deer [Chittal, Cheetal, Axis deer, Pulli Maan in Malayalam] can be found in the deer park.
Thenmala Deer Park, famous for its spotted deer, is still a significant feature of Thenmala tourism. Visitors are mainly taken with the trees that blanket the woodland region. The months of December to February are ideal for visiting and enjoying the splendour of this location. The park's entrance cost is INR 30 per person. It is recommended that visitors visit between the hours of 9:00 a.m. and 5:00 p.m. It is open from Monday to Saturday.
Shendurney Wildlife Sanctuary
One of the great locations to visit in Kollam is the Shenduruny wildlife reserve. The sanctuary is located within the Agasthyamalai biosphere reserve. It is home to a variety of plants and fauna. This location will appeal to all wildlife aficionados. It is also a fantastic spot to take children.
Shendurney Wildlife Sanctuary is unique in its scenic beauty and natural atmosphere. Nature lovers have a once-in-a-lifetime opportunity to stay inside the forests in specially built camping cottages as part of Shendurney Ecotourism's camping packages. Along with jungle camping, travellers can enjoy vegetarian food, trekking, jeep safaris, bird viewing, and other activities. Shendurney has five camping areas: Idimuzhanganpara, Pallivasal, Rockwood and Kurunthotti valavu, and Lake view and Kalamkunnu. Shendurney ecotourism is apart from others due to its unrivalled trekking and camping programmes.
Mahatma Gandhi Park in Kollam is an excellent destination for a family outing because it has beautiful views and fantastic play areas. There are numerous thrill rides available for children to enjoy. It is an intriguing location that includes a beach with a well-kept park where people may sit and relax while admiring the natural beauty surrounding the area. This location, Kochupilamoodu, is barely 2 kilometres from Kollam town and was inaugurated in 1961. The park area is ideal for long walks along the beach and admiring the grandeur of the Arabian Sea, which is especially appealing at twilight. The destination is just the ideal family retreat, and as a result, it has grown in popularity. The park boasts fantastic attractions and rides that everyone enjoys. Mahatma Gandhi Beach & Parks in Kollam is a unique location that draws both local and international visitors. The sea here is safe for swimming and bathing, and visitors feel tremendously invigorated in this park's lovely surroundings. Though not as popular as Goa, there are a few beach shacks near the park that serve great sea cuisine and other local fare as well as drinks.