Backwaters in Kasaragod excursions allow you to explore a lush area surrounded by four small islands and a shimmering river. The image of these river patches merging into the peaceful backwaters is captivating. Kasargod, also known as the "Land of Seven Languages and Cultures," is known for its backwaters, which include verdant stretches, tranquil canals, local towns, unspoiled islands, and coconut grooves. You can visit Valiyaparamba and Chandragiri, two well-known Kasargod backwater destinations.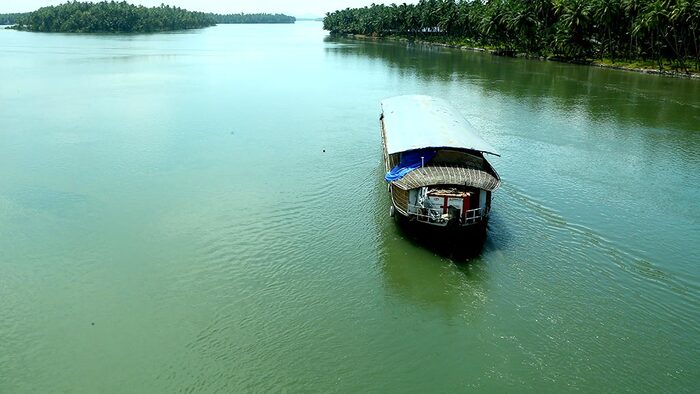 Valiyaparamba is a small coastal island in Kerala's Kasaragod district. It is one of the most beautiful backwater attractions in Kerala, and one of the best locations to visit near Kannur. The stunning view from a kettuvallam (houseboat) is possibly all you need to just relax and unwind. Valiyaparamba is Kerala's third-largest backwater, offering a beautiful view of the native flora and fauna. Valiyaparamba Island, the largest island in the Kavvayi backwaters, is reached via a boat journey through the backwaters. Relax in the houseboat while taking in the rustic appeal of the pristine backwaters, catch fish, or eat a delicious lunch. Valiyaparamba Island is a peaceful and isolated retreat from the city.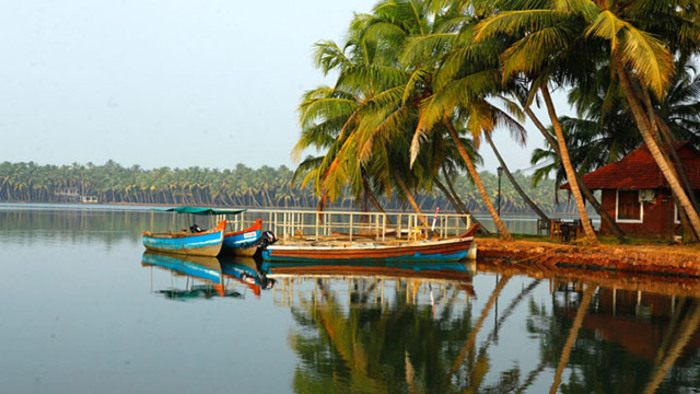 The Chandragiri backwater, located in the Kasaragod district's Chandragiri river, is one of the most important backwaters in North Kerala. The sea is to the west of Kasaragod, while the Western Ghats encircle the city to the north and east. The Chandragiri fort, which was built in the 17th century, is located here. Backwater cruises can be enjoyed along the Chandragiri river's backwaters, and there are numerous little islands to visit by boat. This backwater is fed mostly by four rivers. Around these backwaters, there is a diverse range of flora and wildlife. The land surrounding these backwaters is lush with vegetation. Houseboats, also known as Kettuvallams, can be used to go through the backwaters.
Cheruvathur is a quaint little hamlet in Kerala's Kasaragod region, about 10 kilometres south of the larger town of Nileshwaram. The location is famous for being the birthplace of Kerala's outstanding 19th-century poet Mahakavi Kuttamath. Depending on their preferences, tourists can enjoy a relaxing trip aboard a houseboat or a country boat. A calm wind surrounds you as you walk across crisscrossing canals and rows of coconut trees. The facilities here are all run by local producers, so everything you eat has a particular Northern Kerala flavour. These backwaters are fed by five rivers, which are dotted with little islands in the brackish waters.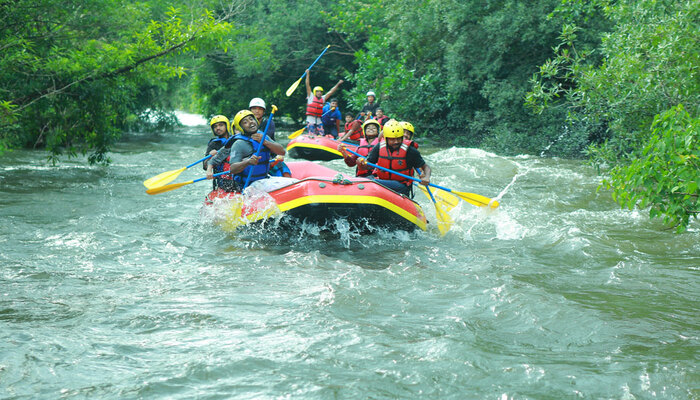 The Tejaswini River is full with surprises that will provide everyone with a great rafting experience. The dense greenery that stretches into the river, the steep sides, the branches of massive trees that lean over the river, and the magnetic swirl all contribute to the rafting experience being enthralling. The rafting begins in Kolladi, near Cherupuzha, where you can launch your inflatable boats into the Tejaswini's tremendous waves. A succession of fascinating experiences awaits you as you discover Tejaswini's numerous faces.