This district has a number of beaches. The beaches' broad stretches of white sand and the quiet ambience away from the city's crowds provide all the ingredients for relaxation and a great evening. Some of the beaches in Trivandrum are here.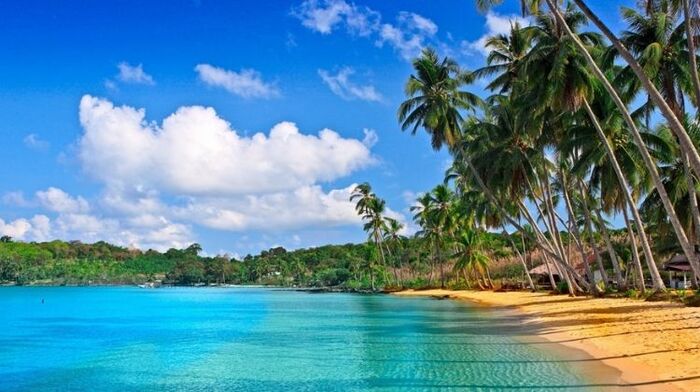 It's a lovely beach surrounded by luscious coconut palms and supported by sharply rising headlands. Kovalam, located in the southern portion of Kerala, has made its mark on the global tourist map thanks to its pristine and unusual beaches flanked with dazzling sand and beautiful light homes. Kovalam's secluded coves, sun-kissed beaches, and coastal towns excite with their revitalising environment and pristine atmosphere. It is separated into two main beaches: Eve's Beach and Lighthouse Beach. Swimming, Ayurvedic massages, sunbathing, and a variety of other activities are available to beachgoers in this beaches in Trivandrum.
The winter months of November to February are great for visiting Kovalam Beach. The temperature ranges from 21 to 29 degrees Celsius. Rainstorms are prevalent throughout this time, so make sure you have raincoats and umbrellas with you. Avoid visiting Kovalam from March to May, when temperatures reach 37 degrees Celsius. During the summer, the heat is intense and stifling. June to August is also a good time to visit because it is the beginning of the monsoon season and a great time to see the beach in its rain-washed glory.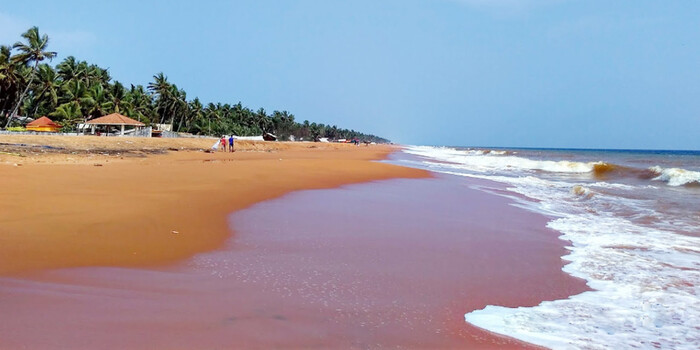 Shanghumugham beach is revered as the 'Arattukadavu' of Sri Ananthapadmanabhan, the city's presiding deity. During auspicious occasions, thousands of Hindus perform 'Bali Tharpanam.' During Vinayaka Chathurthi, Shanghu mugham is a popular place for Ganesh Nimarjan.The huge expanse of white sand and the tranquil ambience away from the city offers all the ingredients for relaxation and a great evening.  Good meals may be had just across the beach at the Old Coffee House, which also serves as a vantage point for watching the sunset. Unfortunately, the beach is not properly maintained, with trash all over the place.
During Vinayaka Chathurthi, Shanghumugham is a popular place for Ganesha Nimarjan. Here is the 'Jawaharlal Nehru Park of Traffic Signs for Youngsters,' which helps children comprehend traffic rules while playing in the park. Small youngsters can also ride their bikes in the park.Kanayi Kunhiraman's sculpture of Sagarakanyaka Mermaid is an extra attraction. The voluptuous sun bathing Jalakanyaka (mermaid) at Shankumugham Beach in Trivandrum was built out of concrete and measures around 23m (75′) in length. Kanayi Kunhiraman, an award-winning sculptor, built it on the seashore at Thiruvananthapuram.
Varkala beach is a blend of natural beauty that has drawn a lot of visitor interest in God's own country. The Discovery Channel named this beach one of the top 10 seasonal beaches in the world, citing its spectacular splendour of landscapes, brown sand, and sea. It's a great place to unwind in a relaxed setting. This beach is popular for beach activities such as swimming and sunbathing, and it has a beautiful sunset view. With its long twisting stretch of cliff that extends over the Arabian Sea, it can simply take your breath away. Varkala Beach is also known as Papanasam Beach since it is believed that bathing here washes away all sins.
Varkala beach provides a variety of beach activities such as sightseeing, sunbathing, wind surfing, parasailing, and simply taking in the beauty of this tranquil beach resort. It's a lovely area to visit if you want to be surrounded by peace and quiet. The warm pristine has short and fast waves that range in size from 2 to 5 feet. Surfing enthusiasts can rent surf equipment from the Surf and Soul school. From September through March is the finest season to go surfing. Snorkeling enthusiasts should visit Thiruvambadi or Papanasham beaches. Unquestionably, receiving Ayurvedic and yoga therapies from well-known Yoga and Ayurveda centres is a pleasurable experience.So, while on vacation at this beach, you can partake in activities such as Ayurvedic treatments, meditation, and Yoga. Aside from these, art/creative workshops are also available. Shop until you drop at the endless rows of huts that run along the cliff, offering everything from jewellery to handicrafts.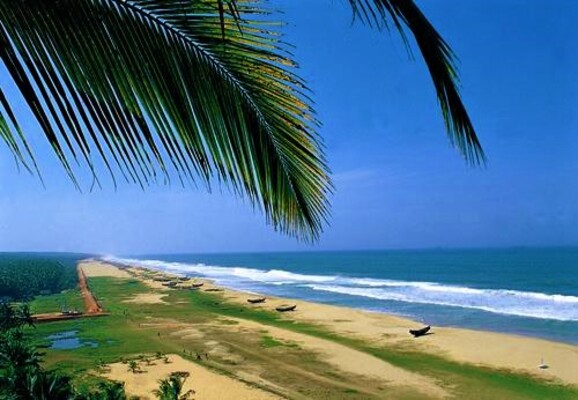 Chowara Beach is around 10 kilometres south of Kovalam. The golden dunes are sheltered by a grove of coconut palms, which conceals the existence of a fishing town, a temple, and an old church. The beach is home to a fishing town. Colorful boats can be seen everywhere. Visitors such as eagles and kites fly above the waters near the beach. Chowara beach is perfect for sunbathing and watersports. The beach is open all year long. On the Chowara beach, many levels of accommodation are offered. Visitors can stay in historic Kerala cottages, well-known heritage hotels, or Ayurvedic retreats. Chowara Beach is ideal for getting away from the tourist-infested Kovalam Beach. Rent a scooter and explore the isolated beaches in Trivandrum. Experience the bizarre mixture of Malayali fishing villages and opulent spa centres, which creates its unique appeal. It is a scenic location that is frequently visited by picnickers. From its pristine hilltop setting, the Chowara Ayyappa Temple nearby provides an even better view of the seashore. Visitors can also go to Azhimalathara Beach, which is nearby. During the Monsoon, the sea is supposed to recede from the shoreline and not eat into the beach.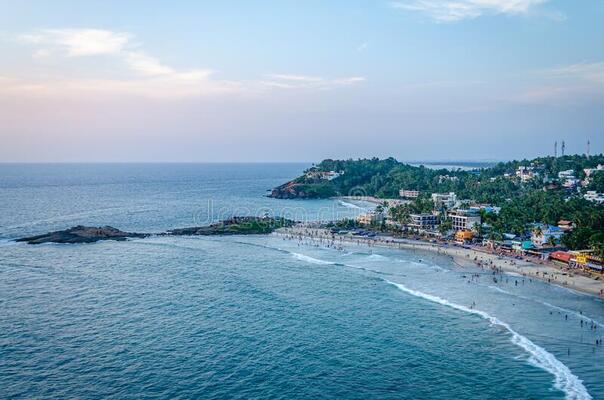 If you wish to experience God's Own Country's rustic beauty, you must visit the Vizhinjam hamlet on your Kerala vacation. This picturesque village, located about 3 kilometres from the popular Kovalam Beach, is home to some of Kerala's traditional cultures and traditions. This fishing village is a natural port that has the potential to become one of the region's largest. The Saagarika Vizhinjam Marine Aquarium, located near the Theatre Junction, is a treasure trove of marine life. A tourist attraction near Vizhinjam Beach is a rock cut temple with sculptures and an exterior wall depicting half-complete relics of Lord Shiva and Goddess Parvathi.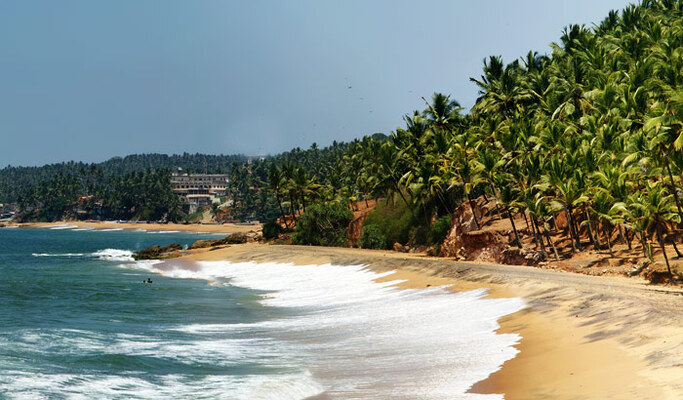 Hawa, also known as Eve's Beach, is a stunning site to behold, particularly at night when the moonlight dances on the waters. It has always been a favoured spot for visitors since it first appeared on the Kerala tourism map. Back in the day, topless European women would flock to the beach to achieve a flawless tan, which is how Hawa Beach received its name. Take a walk along the beautiful coastline, eat delicious seafood from the shacks on the beaches, relax in the sun, go on a long boat ride, and even go surfing – there's enough to do during a visit to the lighthouse beach. Tourists should look forward to activities such as boating and surfing during their visit to the Hawa Beach. Foodies, make a point of visiting one of the beach shacks; they provide delicious seafood that will delight your tastes for ever.
Veli lake and tourist village
Veli Beach is a 10-kilometer stretch of beach in Trivandrum that is well-kept and well-maintained. It comprises of a big garden on the Veli lagoon's shores. Children's play areas, numerous boat excursions on Veli lake, games, horseback riding, swimming pool, shopping stalls, cafeterias, a floating restaurant, a long boardwalk leading to Aakulam lake, and stone and grass sculptures are among the attractions at this site. A water lagoon, which is a very unusual water body just by the sea, may be found at Veli Village. There are also boating options available, which will take you on a ride through the backwaters of Aakkulam Lake. It's where the lake meets the sea, and the sea itself is stunning from this vantage point. The manmade pond with sculptures all around, as well as a nice beach on the other side of the backwater. Riding horses and ponies is available, as well as a variety of tiny snack stores.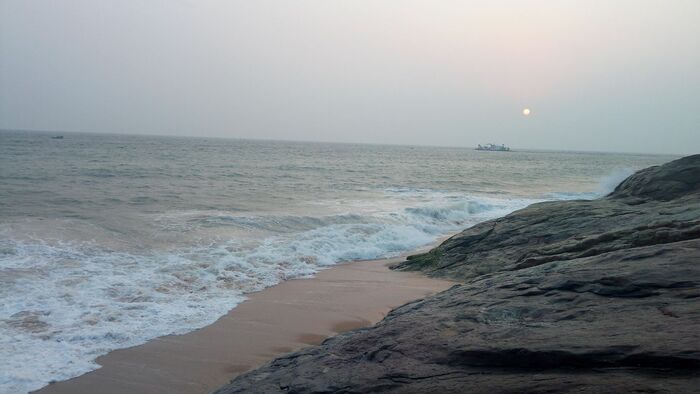 Azhimala Beach is a lovely and peaceful beach located 21 kilometres from Thiruvananthapuram. Azhimala is a beach near Vizhinjam with a beautiful view from the Azhimala Shiva Temple. The seashore is at a short distance from the Azhimala Siva temple. The peacefulness of the shore combined with the chants of the temple produces a one-of-a-kind experience.