Kollam is surrounded by a variety of natural wonders that have yet to be discovered. Among these are some extremely stunning waterfalls that are within easy driving distance of Kollam. Some of the popular lakes and waterfalls in Kollam are here.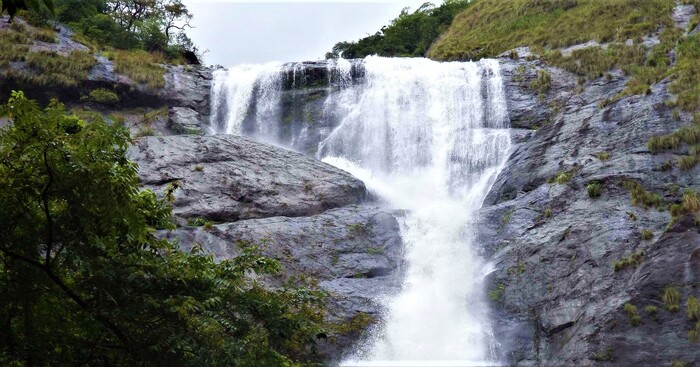 Palaruvi Waterfall is one of Kerela's most stunning waterfalls, cascading from a height of 300 feet through Kollam's deep tropical forest. Palaruvi, which literally means "Stream of Milk" in Malayalam, creates a magnificent backdrop of milk-white bursts of foam, the sound of which echoes across the otherwise tranquil virgin forests of Kollam. This amazing site is bordered by beautiful green valleys and natural herbal trees, which appear to make this waterfall medicinally rich. Many people come to this wonderful site to take a bath under the waterfall and benefit from the great Ayurvedic benefits. It is one of Kerela's most impressive and easily accessible waterfalls, with the nearest railway station and international airport only a few kilometres away. The Palaruvi Waterfall in kollam is also known as the white horse's tail because, like a horse's tail, it narrows at the top and widens at the bottom. This lovely stream of milk, as it is known, forms a little pool at the base of the waterfall, allowing tourists to bathe in the stream's healing water.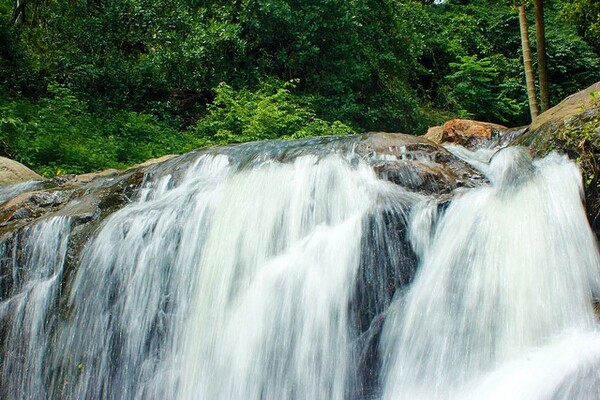 Manalar Waterfalls, located near the Kerala-Tamil Nadu border, is managed by Manalar-Kumbhavurutty Vana Samrakshana Samithy. Aside from waterfalls, travellers can hike to the wide grasslands at high elevation for a one-of-a-kind adventure through evergreen thickets teeming with wild flora and animal. Entry is permitted beginning at 10 a.m. It is bordered by beautiful landscape, including luxuriant evergreen copses rich in flora and fauna, as well as wandering greenland.
A place worth seeing for the majestic waterfall and a diversity of wild animals. The waterfall, which is located in the Konni forest region, is renowned among visitors due to its beautiful and magnificent beauty. The sound of cascading water and chirping birds will make you fall in love with the scenery around you. This site is worth seeing among other places to visit in Kollam for such a lovely and great experience. The cascade astonishes visitors with its bright colours of descending fluid from a height of 25 metres.
Because the Kumbhavurutty Waterfalls are close to the Konni Forest, it is not uncommon to see a variety of wild animals around the waterfalls. The Kerala Forest Department has also established an Eco-Contact Centre at this location, which is managed by the Manalar-Kumbhavurutty Vana Samrakshana Samithy. Overall, the location is a must-see when in Kollam, as it is a secluded setting that lets people forget about their mundane life and lets them dance in delight to the sounds of flowing water and birds chirping.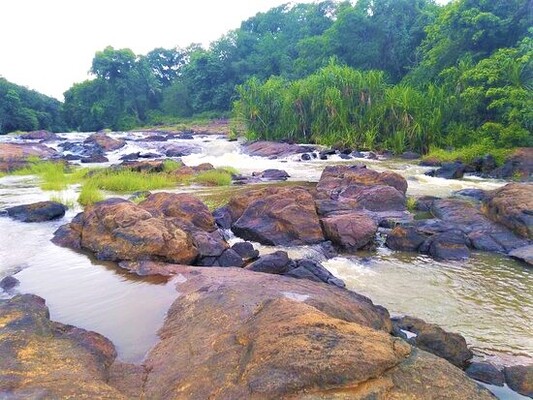 Vattathil Waterfalls is a lovely waterfall hidden in Kalladathanni near Poredom in Kerala's Kollam district. It is one of the most beautiful spots for waterfalls in Kollam because it is part of the Ithikkara River. The falls are about 10 kilometres from Paripally. It's a tiny water fall since it doesn't fall from great heights and instead runs between the rocks. To get here, you'll have to walk around 200 metres from the road through a rubber estate. It's a fun spot to hang out with friends.
Ashtamudi Lake, often known as the "Gateway to Kerala Backwaters," is a popular tourist destination in Kerala. It is shaped like a palm tree or an octopus. This awe-inspiring lake is a cult among all the backwater sites in God's Own Country, flaunting its bewitching beauty in Kollam. It is, in fact, the most popular or sought-after backwater destination in Kerala.
The cluster of little islets adds to the beauty and charm of Ashtamudi Lake. The lake includes eight beautiful islands, the most of which have remained unspoiled by the outside world. Backwater cruises are very popular on the lake. Traditional houseboats, or 'Kettuvallams,' sail across this lake, introducing guests to the stunning beauty and splendour of Kerala's peaceful backwaters. Visitors on these exhilarating tours not only get to experience the alluring allure of the backwaters, but they also get a livelier peek of Kerala's traditional way of life!
In the Kollam district, the town of Paravur has a small lake that connects to Kerala's backwaters. This lake draws a lot of tourists since it adds perfection and peace to the Keralan backwaters. The Priyadarshini watercraft club is another major attraction in the Paravur lake area. This watercraft club reveals a plethora of boating options in the area where the Arabian Sea, river, and the Kappil backwater meet. Visitors can go shopping along the Paravur-Edava-Varkala street, which runs along the bank of Paravur Lake.