The Idukki Wildlife Sanctuary is a perfect example of how Kerala's Idukki district is one of the most naturally endowed areas. Idukki's wildlife reserves have traditionally been among the most popular tourist destinations. Because the territory is densely forested, there is a good chance of seeing animals when on a waterfall trip, driving down the road, or even roaming around Munnar's outskirts. However, such chance encounters may not be comparable to a trip of a wildlife refuge, where you can view a variety of animals and birds.
Idukki Wild Life Sanctuary
The Idukki Wildlife Sanctuary, which covers 77 square kilometres of forest surrounding the Idukki Arch Dam, was established in 1984. The forest department's ecotourism operations offer opportunity to those who want to observe what lies beneath the surface of the wild as seen from a boat. Elephants, bison, sambar deer, wild dogs, jungle cats, tiger, and wild boar, as well as numerous snake species such as cobras, vipers, kraits, and numerous non-poisonous snakes, can all be seen. Birds such as the Grey Jungle Fowl, Malabar Grey Hornbill, woodpeckers, and bulbuls can also be found. The serene lake that surrounds the refuge is ideal for a romantic boat excursion. The place's appeal is enhanced by the tropical evergreen and deciduous trees.
Chinnar Wildlife Sanctuary
Chinnar Wildlife Sanctuary is one of the most promising locations for experiencing nature in all of its glory, which is why so many visitors enjoy taking tours of the park. Many people, mainly environment lovers and wildlife enthusiasts, come to see the endangered Giant Grizzled Squirrel of India in this thorny scrub woodland. Furthermore, this location is lush and abundant in natural beauty, plants, and resources. Panthers, Spotted Deer, Indian Elephants, Gaur, Tigers, Sambar Deer, Common Langur, Bonnet Macaque, crocodile, garra mullya minnows, butterflies, Hanuman monkey, Nilgiri Tahr, and many other mammal species call this sanctuary home. In the forest, there are approximately 144 animal species, 225 bird species, 1000 flowering plant species, and a large array of medicinal plants.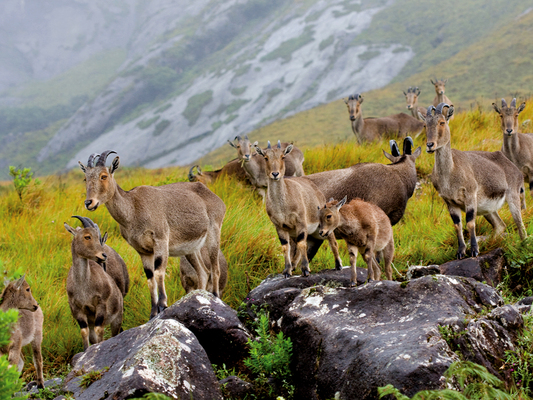 Eravikulam National Park is located in the highlands of Kerala's Idduki district, near the apex of the Western Ghats. The park is home to the endangered Nilgiri Tahr, as well as other lesser-known animals such as the Nilgiri marten, reddish mongoose, little clawed otter, and dusky striped squirrel. Elephant, Nilgiri langur, Nilgiri tahr, Nilgiri marten, small-clawed otter, rare tiger or leopard, and Nilgiri wood pigeon are among the numerous creatures seen here. This hallowed habitat for this uncommon animal comes as a welcome relief at a time when many species are vanishing from the face of the earth. This is also the home of the "Neelakurinji," a twelve-year-blooming flower.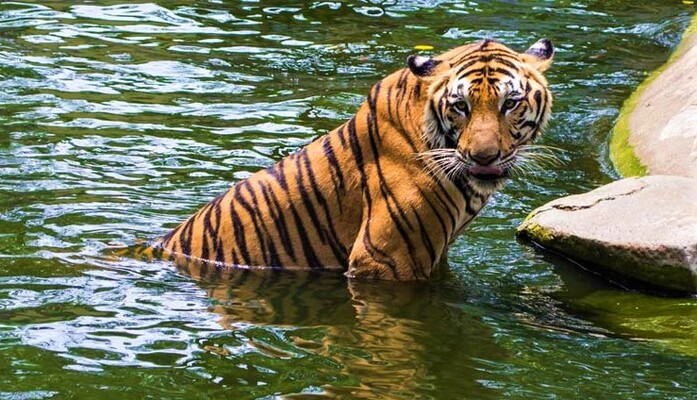 Thekkady, Kerala, is home to the Periyar National Park and Wildlife Sanctuary. It is well-known among tourists as an elephant and tiger sanctuary. The park has a total area of 357 square miles. The park is bisected by two major rivers, the Pamba and the Periyar, which aid in the survival of the region's vegetation and animals. Thousands of tourists visit each year to participate in safaris, rafting, and other activities. The park is located in the heart of the cardamom hills. The greatest way to experience Periyar is from the side of a boat. If you want to be a little more daring, you can rent a bamboo raft and row while the wild looks on. Periyar Bamboo Rafting is available in two time slots: full day and half day.
Anamudi Shola National Park
Eravikulam National Park, Pambadum Shola National Park, Chinnar Wildlife Sanctuary, and Anamudi Wildlife Sanctuary surround the park. Shola is made up of moist deciduous woods, southern subtropical hill forests, and southern montane wet temperate forests. The luxuriant presence of lichen, mosses, and climbers, all markers of the pure air at such high altitudes, will be the most noticeable feature of the dense shola woods that houses a dense area of stunted trees. The park's steep mountains reach their highest point at Anamudi. The park provides a safe and comfortable environment for wild flora and fauna. Elephant, Tiger, Panther, Indian Bison, Nilgiri tahr, Gaur, Spotted Deer, Sambar, Giant Grizzled Squirrel, Hanuman Langur, Sloth Bear, Flying Squirrels, and others are among the abundant wildlife.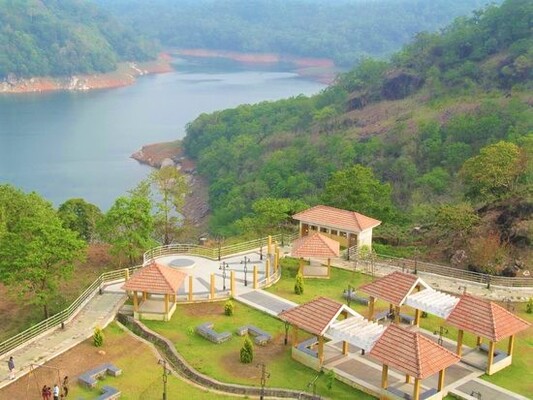 Hill View Park, one of the Idukki tourist attractions, is a gorgeous and well-managed park located 2 kilometres from the Idukki Bus Station. Hundreds of varieties of crotons, flowers, medicinal plants, and other woodlands enchant visitors to the park, which spans 8 acres. Many visitors who arrived out of season were disappointed when they were denied access to the Dam. Here's some good news for those who missed out on viewing those massive dams. If you are not permitted to view the dams, you may instead visit the neighbouring 'Hill View Park.' A natural water body may be found in Hill View Park, where visitors can enjoy boat excursions. The view of both dams, Idukki and Cheruthoni, from the watchtowers, the surrounding hills on all four sides, and the lush flora takes one's breath away. The entrance price for adults is Rs.10/- and for youngsters it is Rs.5/-. It will be open all year, and you may come here with complete assurance to enjoy the natural scenery.