Kerala is known as God's Own Country because no one is discriminated against in these regions, which He has lovingly provided. The Idukki Hill Station is one of the best spots to see this. Memories of the Periyar, Thalayar, and Thodupuzhayar rivers meandering through Idukki's high slopes inspire picnicking, camping, trekking, and appreciating the beauties that Mother Nature has bestowed upon this mountainous location.
Munnar, a popular hill station in south India, is a romantic destination with enough of natural beauty to see, explore, and enjoy. Munnar is located at the confluence of three mountain streams, Muthirapuzha, Nallathanni, and Kundala, hence the word "Munnar" in Malayalam means "three rivers." The area surrounding the location is covered in Western Ghats hills, lakes, flora, wildlife, falls, and other natural wonders, allowing gaps in consciousness to be filled by exhilarating silence. When the mind is burdened by worries and infested with a mountain of labour, such musings are difficult, which is why Munnar, in the lovely Idukki area, provides much-needed relief.  Munnar is also home to Neelakurinji, a rare flowering plant that only blooms once every twelve years. Munnar's 'kurinji season,' when the hills and valleys are drenched in the blue of the Neelakurinji blossoms, is a spectacular sight.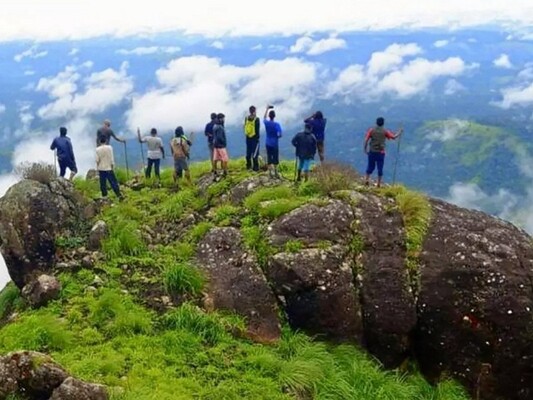 This lovely resort, hidden in the wonderful green valleys of Munnar, is one of Kerala's most attractive hill towns, yet to be explored by many travellers. Top Station, about 32 kilometres from Munnar, known as the "Kashmir of South India," is a sight to behold! It is Munnar's highest point, and its name comes from the Kundala Valley's uppermost railway station, the ruins of which may still be seen from the Munnar Tea Museum. This tourist site is attractive for a variety of reasons, but the famous Neelakurinji flowers (Strobilanthus), which bloom once every twelve years, are particularly popular. The beautiful tea plantation, tranquil valleys, gorgeous waterfalls, and diverse forest life are all reasons to visit this region.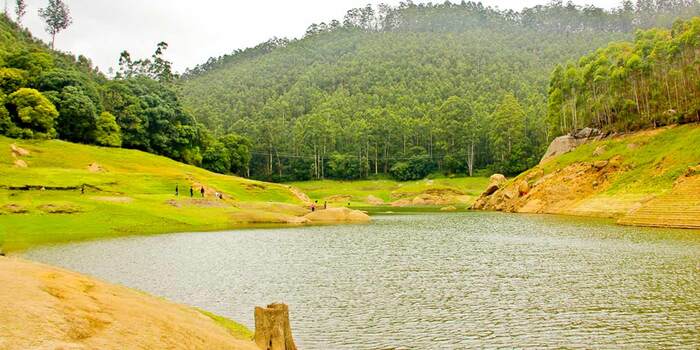 The famed Echo Point is located 15 kilometres from Munnar, at a height of 600 feet above sea level. This location is known as "Echo Station" for a reason. The voices that are heard through the reservoir here reverberate across the area, shattering the beautiful stillness of the hill station. The name "Echo Station" comes from the natural echo phenomenon, and it is the second most popular attraction in Munnar, after Top Station, which is also on the same road. This tranquil spot, barely 13 kilometres from Munnar, allows visitors to hear their own voices repeated again and over. Echo Point, which is located along the banks of the lovely Kundala Lake, has a hazy background and is surrounded by greenery. At Echo Point, there are numerous activities to participate in. Echo Point is a heaven for adventure addicts, whether it's a calm stroll around the hill slopes or a trip to the mountaintop.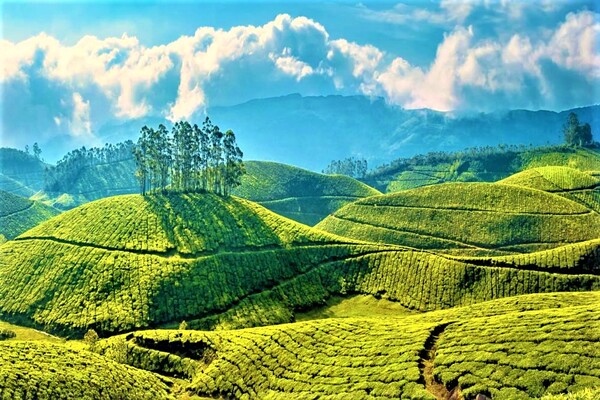 Every year, a huge number of tourists flock to this stunning location, where they may stroll through Munnar's lush green forest, which is approximately 3 km away from Pothamedu Viewpoint. This gorgeous site is ideal for travellers who enjoy viewing the refreshing coffee, tea, and cardamom plantations and experiencing the peacefulness of the place with their eyes and bodies immersed in the splendour of lush green valleys. It's recognised for its gorgeous surroundings, which include a panoramic view of Munnar and the surrounding valleys, which are blanketed in vegetation. Though the area is hazy most of the time, if the weather is clear, one can see the Muthirapuzha River and the Idukki Arch Dam, both of which are around 60 kilometres from Munnar. Pothamedu Viewpoint is ideal for photographers who want to capture the amazing views of this paradise from various angles and create some amazing shots.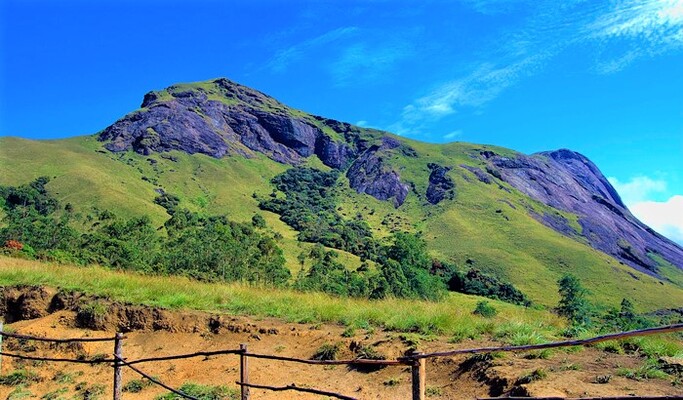 The pride of Kerala is Anamudi, a 2,695-meter-high mountain in the Eravikulam National Park. It also supports the world's largest surviving populations of Asian Elephants, endangered Gaurs, exotic Nilgiri Langurs, and lion-tailed macaques. The Anamudi Peak is a haven in the wild, with evergreen woods and some of the most magnificent rivers flowing through it. Tourists climb to the summit of the mountain to see the lovely rivers that flow into the east, such as the Vaigai and Thamirabarani, as well as the Periyar River. Anamudi Peak is a popular destination for adventurous sports such as mountaineering and trekking. It is one of Southern India's most interesting trekking trails. Many photographers are drawn to the summit because of its stunning beauty and abundance of wildlife. It is a popular picnic location for locals as well as visitors from neighbouring cities. It is popular among travellers as a weekend vacation destination. There are camping areas around the top where you may pitch a tent and take in the grandeur of the mountain and its surroundings.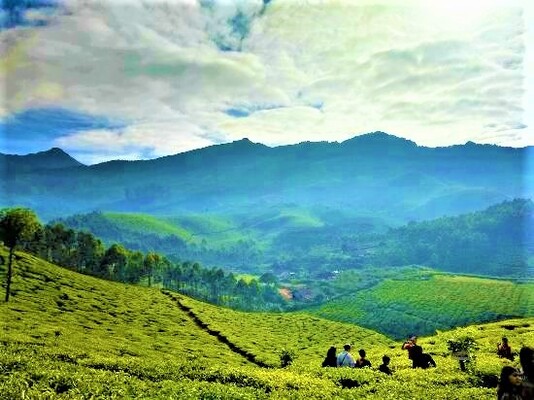 Devikulam, a small hill hamlet located at an elevation of 5,900 feet (1,800 metres) above sea level, is home to undulating hills, tea gardens, spice farms, waterfalls, and a famous lake. Devikulam is known for being a religious tourism attraction, particularly among Hindus, in addition to its natural beauty. Devikulam is known for its softly gushing waterfalls that flow from steep heights and its distinctive flora and fauna, as well as its breath-taking settings, velvet grass, and cool fresh air. Devikulam has a lot of rock climbing and trekking opportunities. The Sita Devi lake in the hill station offers trout fishing for those who enjoy it.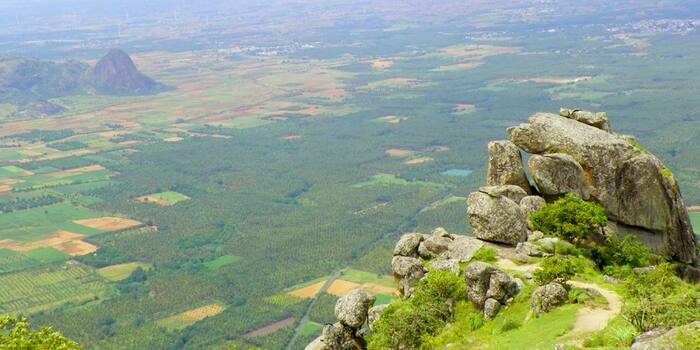 Ramakkalmedu is a hill station in Kerala's Idukki district, in the eastern part of the state. The storey behind the name 'Ramakkalmedu' is fascinating. 'Land of Rama's stone,' or 'the land where Lord Rama kept his leg,' is what 'Rama-kal-medu' implies. According to legend, this is the spot where Rama rested his feet while searching for his beloved wife Sita in the Hindu epic "Ramayana." Ramakkelmedu is also known for the Kuravan and Kurathi statues. The statue is situated above the Ramakkalmedu hills. This lovely statue, which was constructed in 2005, was designed by C B Jinan.
Ramakkalmedu, commonly known as Kerala's "Cradle of Wind," is a popular hill station in Kerala's Idukki District that offers a panoramic view of Tamilnadu villages and cities. The only thing you can find on your way to Ramakkalmedu is wind. The area is known as the Windy Land. You will feel as if the wind is propelling you forward, and resisting the wind will be quite tough. The wind here blows at a speed of 35 km/h, which is said to be the highest in Asia. Ramakkalmedu, which is blessed with wind energy, is the second spot in Kerala to have a wind energy farm with a capacity of 12.5 MW.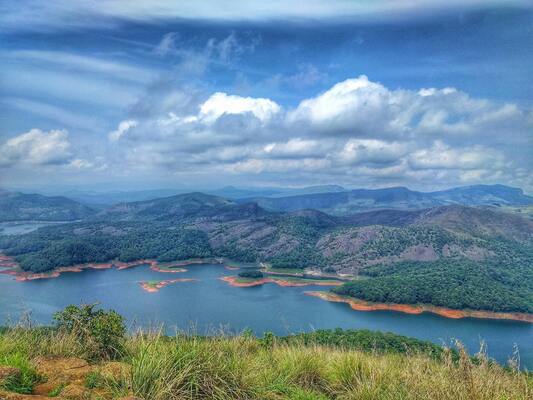 One of the Idukki tourist attractions, Kalvari or Calvary Mount, is a peak located 5 kilometres from Idukki. It is a well-known Christian pilgrimage place built on a hill with a panoramic view of the Idukki Reservoir and the surrounding peaks and woods. Mountain climbers and trekkers will like it as well. The Kalyanathandu viewpoint on Calvary Mount provides breathtaking views of the tranquil waters of the reservoir between the Kuravan and Kurathi Hills, as well as the Idukki dam. On one side, the Kalavary Mount offers an attractive view of the Idukki reservoir from Idukki to Ayyappanccovil, and on the other, a picturesque perspective of the charming Kamakshy and Mariyapuram hamlets. Low-hanging clouds, mild breezes, occasional singing birds, and herds of sauntering elephants will provide an interesting experience for hikers.
Nadukani, one of the Idukki tourist attractions, is located at Kulamavu, between Thodupuzha and Idukki. The Nadukani Pavilion, a two-story facility atop a hill built and administered by the State Electricity Board, is surrounded by large stretches of hayfields flanked by massive rocks. The bird's eye view from this hill station in Kottayam is sought out by tens of thousands of people each year. Nobody wants to miss out on the breathtaking panorama of mountain ranges on one side and the Muvattupuzha River on the other. Over 3000 feet above sea level, you'll be accompanied by massive rocks, and it's a sight worth seeing at least once in your life.