In the category of Water Parks in Kottayam, Kadanthery Nature Parks in Kottayam is a top player. 2 Artificial Lakes, Fish Ponds, Kid's Swimming Pool, Children's Playground with Equipment, Artificial Cave, Landscape, Floral Garden, Botanical Garden, Inflatable Swimming Pool, Inflatable Boats, Paddle Boats, Fiber Pedal Boats, and other attractions are designed to preserve the land's and nature's originality. In addition, there are a variety of Ornamental Fishes in the Aquarium, as well as numerous species of Pet Birds and Water Birds, as well as numerous sorts of Animals for show, including horses.
 In the category of Amusement Parks in Kottayam, Uncle John Drive in, Kottayam is a leading player. This well-known institution serves consumers both locally and from other regions of Kottayam as a one-stop shop. This traffic park would provide kids with a rudimentary understanding of road traffic rules, laws, and structure in addition to providing fun and entertainment. They can learn about zebra crossings, road signals, road signs, speed bumps (or speed breakers), traffic lights, lane driving, bridge driving, and parking fundamentals, among other things. Inside Uncle John i-drive is a large water park where kids may enjoy unlimited fun. Some of the attractions include water slides, a splash pad, a toy channel, and toy water falls.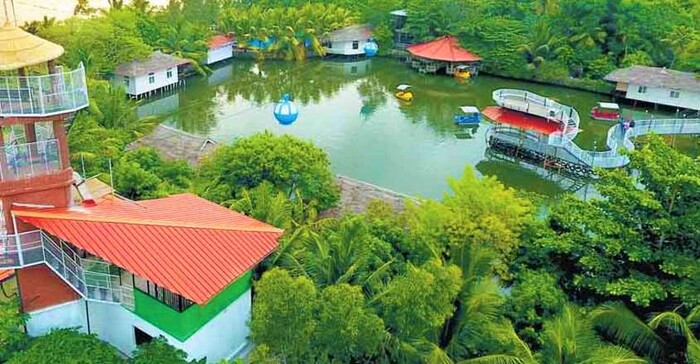 Mango Meadows is the world's first agricultural amusement park, spanning 30 acres and home to over 4500 plant and tree varieties. It is one of the most biologically diverse areas on the planet. In addition, the park contains 50 cottages, 12 of which are fully finished. Mango Cottages, Paddy Premium Rooms, and Kootukudumbham Rooms are among the several types of cottages available. The homes and accommodations built within the park are carefully located to avoid disrupting the natural environment's soft fabric. Mangomeadows will never let you down if you're looking for tranquilly and want to stretch your mind and soul. Some of the better facilities accessible here include boating, fishing, badminton, swimming, archery, and shooting. Tourists can choose from a variety of restaurants, including a multi-cuisine restaurant and a traditional food store.