A beach is one of the few spots in the world where you can see how large our Mother Earth is and how small we are all facing. It is also one of those spots that gives individuals tremendous rest and tranquilly in pursuit of calm. Visit beaches in Kozhikode with family and friends
Beypore Beach is 15 kilometres from Kadavu, at the mouth of the Chaliyar River. With its gorgeous ambiance, large lengths of golden sands, and beautiful coconut trees swaying delicately in the cool breeze, the lovely beach is like a treasure of peace and calm. This beach is immaculate and ideal for a relaxing day. Take a break from your hectic schedule and visit Beypore Beach, where you can indulge in Ayurvedic massages, participate in various water sports activities, or simply stroll along the coast. Relax and participate in various activities to make the most of your vacation in Beypore. This historical harbour had seen a lot of trade and transactions between the local traders and Arabian merchants from West Asia, Chinese travellers, and eventually Europeans. One of the main attractions of this location is the existence of a 1,500-year-old shipbuilding history.
The most popular attraction in Kozhikode is Kozhikode Beach, which offers sunset spectators a breathtaking view of the Arabian Sea and relaxing water that flows in a rhythmic pattern to the coast. The antique lighthouse and two collapsing piers that plunge into the water add to the beach's attractiveness and give it an old world feel. This beach holds a special place in Calicut's history because it was formerly a major harbour where sailors from Arabia and China anchored and traded for ages. The beach is packed with people who come to see the sunset. The shacks that encircle the area provide a constant supply of fresh seafood. Mussels (kallumekaya) are a local favourite. A walk to Dolphins Point first thing in the morning ensures a meeting with friendly dolphins. A towering lighthouse and two piers leading into the sea also greet you. Both have been around for almost a century. Lions Park and the adjoining marine water aquarium, which is open every day from 8:00 a.m. to 8:00 p.m., attract a large number of children.
Kappad Beach has played an important historical part in Kerala's history. Over 500 years ago, in 1498, 170 men commanded by Vasco da Gama arrived into Kerala's shores for the first time. The state as a whole, particularly the Malabar Coast, would never be the same. It is tucked away from the city's hustle and bustle, making it a great beach vacation spot for relaxation. The beach environment contains multiple coconut plantations and extensive stretches of silvery sands drenched by lathered surf that washes up and down the coasts, and is dotted with intriguing rock formations on all sides. It's also known as Kappakadavu Beach, and it's one of the most well-known beaches just 16 kilometres from Calicut.
The golden sands of Payyoli Beach beckon all who are fortunate enough to see them. Take a walk, interact with the chirping birds, or perhaps take a soothing plunge. With its groves of swaying coconut palms and long stretches of silver sands, the Payyoli Beach is a sight to behold, bordered by beach shacks that provide delectable snacks and seafood to tourists. The Thikkodi lighthouse, erected after a shipwreck, is a must-see, and a magnificent sand bank can be found approximately a kilometre and a half north of Payyoli. The sea here is stunning and provides a tranquil environment for swimmers and those interested in other water activities.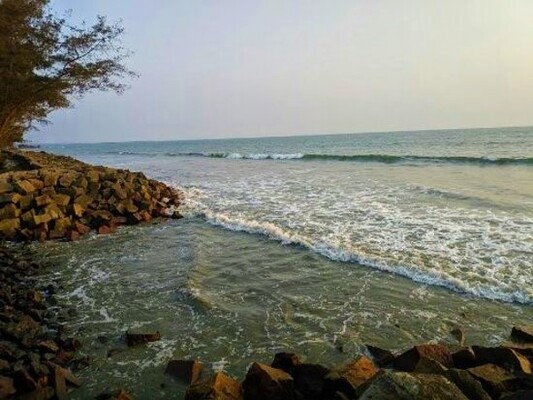 Parappalli Beach is a popular surfing location. Parappalli is located near Koyilandy in the district, on the rock hills of Kollam beach. The towering rock formations are the main draw of the Parappally beach. The cliffs provide a great vantage point for viewing the sea and sunset. Near Parappalli Beach, there is a mosque. With a history of over 500 years, Parappalli mosque is one of the most important Sunni mosques and has become a pilgrimage centre for believers of all faiths from around the country and internationally.