Alappuzha's tourism attractions include the palace and museums. The krishapuram palace and other museums in Alappuzha are discussed here.
On the way to Kollam, the stunning and majestic Krishnapuram Palace is located 47 kilometres from Alleppey (Alappuzha district). Krishnapuram Palace is a palace in Krishnapuram, India. The painting representing the narrative of Gajendramoksham, built by Marthandavarma Maharaja in Kayamkulam in Karthikappally Taluk, is famous. It's built in the Kerala architectural style, with dormer windows, a gabled roof, and a short hallway near Krishnapuram's Krishnaswamy Temple. The palace also has a beautiful planted garden with a variety of plants, as well as a Buddha mandapam. The palace's narrow hallways, low ceilings, and projecting balcony windows are all excellent examples of this architectural style. The palace is now an archaeological museum that is protected by the Archaeological Department. There are also a great number of ancient items and historical specimens on display from all throughout the country. Rare antique bronze sculptures, wood sculptures, coins, megalithic ruins, and mural paintings can all be found here.
Bay Island Driftwood Museum
The Bay Island Driftwood Museum, located a few kilometres from Kumarakom, is a must-see for art lovers. The island features one-of-a-kind art pieces made by polishing, sculpting, and refining driftwood that has washed up on the shore by the sea. All of these items were taken directly from the Andaman and Nicobar Islands, which are located near the Bay of Bengal, according to the museum's owner's storey. Tourists flock to the location because of its unique art pieces. The artwork is expensive, artistically intriguing, and closely resembles animal, bird, and insect shapes. Visit this one-of-a-kind art museum to learn something new and experience art in an unusual yet gorgeous manner.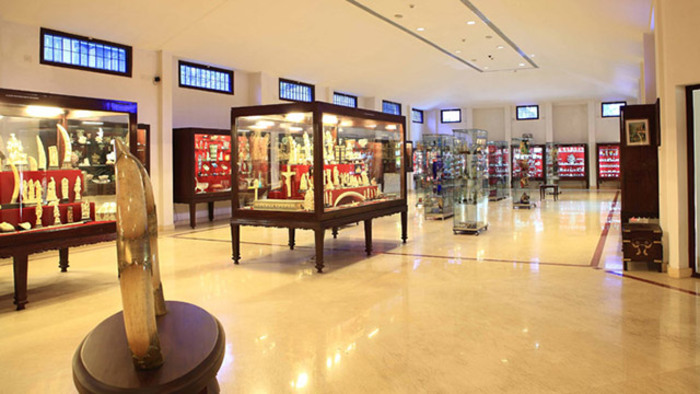 The Revi Karunakaran Museum is one of those locations that transports you to another universe. The ivory and crystal collections are among the most extensive of their kind in the world. A variety of Tanjore paintings, as well as a 200 sq. ft. mural created entirely of vegetable dyes, are featured in the catalogue. Its particular 'Kerala Room' contains approximately 3800 one-of-a-kind items that trace the evolution of our culture. It is a place that embodies a passion for art and all things culturally significant.