Ernakulam is the eastern, mainland component of the Ernakulam-Kochi twin towns in central Kerala, India. Ernakulam, on the Arabian Sea's shore, is a thriving business centre. It is frequently referred to as Kerala's commercial capital. Since the Stone Age, Ernakulam has been a part of human settlements. This city still contains rock-cut caves and dolmens. The Chera Dynasty controlled Ernakulam for a while, and afterwards the Kingdom of Cochin (Perumpadapu Swaroopam). The Hill Palace Museum, Madhavan Nayar Foundation, Kaladi, Kodanad, Chendamangalam, Malayatoor, Bhoothathankettu, and Thattekkad Bird Sanctuary are the primary tourist attractions in Ernakulam. Ernakulam is a popular destination for domestic tourists visiting Kerala because of its various temples and churches. Here some most beautiful places to visit in Ernakulam.
Cherai beach is a 15-kilometer stretch of wild and rugged beauty located on the north end of Vypin island near Kochi. The beach is filled with little shacks offering local delicacies like pakoras and chips, despite the lack of hotels or major restaurants. The drive to the beach is lined by beautiful lagoons, huge paddy fields, and coconut grooves. A trip to Cherai Beach is a must-do places to visit in Ernakulam. view more
Vypeen is one of the most popular day trips from Ernakulam and undoubtedly one of Kerala's nicest islands. This tranquil island, filled with beaches, backwaters, and an array of restaurants and hotels, is only a short and lovely ferry journey from the city. Vypeen Island is one of the greatest places to visit in Ernakulam for couples because it has a desktop-worthy scenery away from the hectic atmosphere. view more
Pallippuram Fort, a stunning historical building in Kerala's Ernakulam region, was erected by the Portuguese in 1503. The Pallipuram Fort is thought to have been under Dutch control in 1661, although it was eventually ceded to the State of Travancore in 1789. This fort has a rich cultural legacy and foreshadows a glorious history in Kochi's region. This fort, also known as Ayikotta or Alikotta, is erected in a massive hexagonal construction.
With a hexagonal outpost and the lowest floor raised to a height of five feet, the fort's architecture is particularly unique. The structure is made of laterite, mortar, and wood. The arrangement allows for the mounting of as many weapons as feasible to command all sides of the fort. Inside the fort, there is a cellar that was once used as a magazine. Inside, there is a large open area that allows easy access to the cellar. Locals claim that the cellar is a tunnel that leads to Kodungallur's Cheraman Masjid (Kodungalloor).
Marine Drive is one of Kochi's most attractive and famous tourist attractions. The wonderful view of the backwaters and Kochi Harbour that is offered here attracts both locals and visitors. It's a 140-meter boardwalk that connects the Jankar Jetty (north) to the Emakulam Boat Jetty (south) (South). It's on the edge of a backwater that starts behind the Children's Park and ends near Shanmugham Road. It's covered in red-carpet super tiles with black dots. On ash grey tiles, wooden seats with cast-ironed, weather-proof chairs provide the ultimate in leisure. There are numerous shopping malls and fast food restaurants that draw visitors from all over the world. It is a key hub of economic activity in Kochi, and travellers flock here to catch a glimpse of the rising sun over the sea jaws.
Kodanad Elephant Training Centre
In the Ernakulam district (also Kochi), Kerala, Kodanad is a very serene and delightful location located near Perumbavoor on the banks of the Periyar River. It is one of the most well-known elephant training centres. During the 1950s and 1960s, Kodanad was recognised as one of the largest elephant training centres for collecting elephants from adjacent regions, but capturing elephants was outlawed by the Indian government in 1970, and Kodanad has since been used as an elephant rescue training centre. There are numerous walks along the river that provide tourists with a pleasant experience. At the heart of the complex is a small wildlife park, which is home to deer and other animals.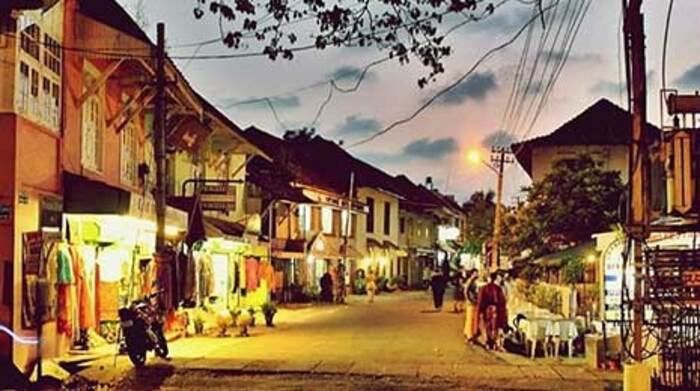 Princess Street, popularly known as Loafer's Corner, was one of the first streets built in Fort Kochi, Ernakulam. Princess Street, reminiscent of Kochi's colonial days, is lined with antique shops, cigar shops, kiosks, cafes, restaurants, and art galleries, making it a popular hangout for tourists and locals alike, as well as a good shopping destination for those in need of some retail therapy. This bustling boulevard in the city's centre is lined with European-style bungalows and other colonial-era structures with Portuguese, Dutch, French, and British influences. Put Princess Street on your itinerary, then use our Kochi (Cochin) tour itinerary to find out what else is worth seeing.
Fort Kochi's Chinese Fishing Nets are a must-see site in Kerala. These are permanent land installations that are used for a special type of fishing. These nets are attached to bamboo and teak poles and are pulled down into the water by massive gears that hold them horizontally. Large stones linked to ropes are used to weigh the nets. The Chinese fishing nets are thought to have been brought in from the court of Kublai Khan, a Chinese emperor, by the Chinese Explorer in Fort Kochi. Chinese fishing nets, on the other hand, are used in a variety of ways in Cochin Harbour. They are the most common fishing equipment in Kochi, and the sea covered with these nets at sunset creates a mesmerising and pleasant image. It is most attractive places to visit in Ernakulam
Along Ernakulam, Kerala, the Rainbow Hanging Bridge in Marine Drive is a famous hangout spot. It's a long walk along the lovely lagoon that faces Kochi. The great Rainbow Bridge comes alive at night with brilliant lights, and it is highly suggested that you see it at this time. In the heart of a growing metropolis, the entire area is a unique example of constructed wonders intermingled with natural gifts.
Wonderla has grown into one of the country's most popular amusement parks. It is also one of Kerala's most popular tourist destinations, being located in Kochi. People come from all over the country to enjoy the many rides and attractions. Take one of the more than 50 thrilling rides or simply relax by the pool in the brilliant sun. But no matter what you do, everyone here gets a bit closer. The exhilarating experiences offered by the land and water rides are well-known. The park's family-friendly atmosphere is hard to miss. It is immaculately kept and offers a wide variety of dining alternatives. Everyone who visits Wonderla is guaranteed a memorable experience that improves with each visit.
Mangalavanam Bird Sanctuary
It is 0.0274 square kilometres in size and is located in the heart of Kochi city. This area attracts a high number of migratory birds. The primary attractions are spiders and bats. The Mangalavanam Bird Sanctuary, created in 2004, is the state forest department's smallest protected area. It is Kerala's only bird sanctuary, and it is surrounded by mangrove woods. Mangal is a Portuguese term that means "mangroves." There are 194 birds in 32 species, according to a survey conducted in May 2006. So far, 72 bird species have been reported in this area. In addition, 17 butterfly species have been identified. Spiders come in 51 different varieties.
Thattekkad Bird Sanctuary
Thattekkad Bird Sanctuary, Kerala's first bird sanctuary, is also one of the most popular in the country, with only 25 square kilometres. Thanks to world-renowned naturalist Dr. Salim Ali, the legendary 'Bird Man of India,' who discovered this stretch of evergreen lowland forest on the banks of Periyar during his Travancore – Cochin ornithological expedition. Salim Ali Bird Sanctuary, as it is presently known, is named after him. The Sri Lankan Frogmouth, Racket-tailed Drongo, Bronzed Drongo, White-bellied Treepie, Shama, Yellow-browed Bulbul, Rufous Babbler, Malabar Parakeet, White-bellied Blue Flycatcher, and Malabar Grey Hornbill may all be found in this area. Plantations of teak, rosewood, and mahogany can also be seen here. It also has over 28 mammalian species and over 9 reptile species.
LULU INTERNATIONAL SHOPPING MALL
In the city of Kochi, India's largest retail mall, LuLu Mall, is located. It is one of Kerala's most popular tourist destinations. It is the 89th largest shopping mall in the world, with a total retail floor area of 1.7 million square feet and a 17-acre footprint. The mall, which opened in March 2013, has over 215 stores, including food courts, restaurants, family entertainment zones, a multiplex, an ice rink, and a bowling alley. This project is expected to cost more than INR 16 billion. Lulu Group owns and manages the property.