Thiruvananthapuram, the state's administrative and cultural centre, is located on the southernmost tip of God's Own Country. This location provides something for everyone, from a landscape naturally endowed with some of the most gorgeous vistas to culturally meaningful holy sites that have persisted for over a thousand years. Young and elderly alike can enjoy their own personal slice of Kerala here, according to their preferences. There is no doubt that one can study a section of the top tourist places to visit in Trivandrum, given that this state is just India's most visited capital.
Tourist Places to visit in Trivandrum
Kuthiramalika (Puthenmalika) Palace Museum, Napier Museum, The Kanakakunnu Palace, Priyadarshini Space Planetarium, Vizhinjam Rock-cut Cave, Thiruvananthapuram Zoo, Vizhinjam Lighthouse, Magic Planet, Padmanabhaswamy Temple, Attukal Bhagavathy Temple, Padmanabhapuram Palace, and many more places.
Sree Padmanabhaswamy Temple
Kerala and Dravidian architectural elements are combined in this temple. It is regarded to be the world's most valuable temple. Aside from the established spiritual and structural requirements, the ten characteristics listed below elevate a temple to Mahakshetram rank (Great Temple). Antiquity, historical significance, origin in a forest, proximity to the seashore, elevation, royal links, mention in ancient literatures, architectural splendour, and festival grandeur are among them. The Sree Padmanabhaswamy Temple satisfies all of these criteria. It is one among most attractive tourist places to visit in Trivandrum.
At 1890 metres above sea level, Agasthyakoodam is Kerala's second highest peak and a part of the Sahyadri range of mountains. The woodlands of Agasthyakoodam are teeming with wildlife and abundant in rare medicinal herbs and plants, as well as vividly coloured orchids. This fabled mountain, a birdwatcher's paradise, may be reached on foot from Kotoor, near Neyyar Dam, as well as from Bonacaud. The months of December through April are ideal for trekking. It is one among most attractive tourist places to visit in Trivandrum.
Kuthiramalika (Puthenmalika) Palace Museum
Maharaja Swathi Thirunal Balarama Varma, the King of Travancore, built the rare example of craftsmanship in the traditional Travancore style of architecture, which is also known for its exquisite wood carvings. Maharaja Swathi Thirunal Balarama Varma was a great poet, musician, social reformer, and statesman. The royal family's artworks and rare treasures are on exhibit at the palace museum, which is located near the Sree Padmanabha Swamy Temple. View more
The magnificent palace is located in Thuckalai, on the route to Kanyakumari, which was previously the seat of Travancore's monarchs. This is a well-preserved wooden palace that stands as a wonderful testament to Kerala's ancient architectural style. The magnificent flower carvings, as well as the black glossy granite floor, have stood the test of time. View more
Poovar Island is a tourist site in the Thiruvananthapuram district of Neyyattinkara. It is located near the southernmost tip of Kerala, close to the natural harbour of Vizhinjam. When the tides rise over their typical level, Poovar has an estuary that connects to the sea. This island was once a well-known timber, ivory, and spice trading centre, and it played an important role throughout the Chola dynasty's reign. Blue lagoons encircled by gigantic coconut trees swaying in the breeze provide a magnificent setting for lone travellers. The Keralite fishing community calls Poovar village home, and its rituals, cultures, and traditions set them apart from the rest of the locals. This community has a kind heart and makes Poovar a paradise for all tourists

The Thiruvananthapuram Zoo is one of India's oldest zoos. The zoo was created during the reign of Swathi Thirunal Rama Varma, the previous monarch of Travancore. Some of the oldest structures, which date back to around 1857, have been renovated throughout time. This zoo was given a makeover in 1995 as part of a renovation project, and its old enclosures were replaced with spacious naturalistic habitats. The lion-tailed macaque, Nilgiri langur, Indian rhinoceros, Asiatic lion, royal Bengal tiger, white tiger, leopard, Asian elephants, giraffes, hippos, zebras, and Cape buffalos are among the zoo's 82 animal species. A snake farm and reptile house features both deadly and non-poisonous snakes, as well as seven anacondas. The most exquisite avian species, brought in from all over the world, dazzle your senses with a dazzling display of colours. Throughout your trip, you will be surrounded by large trees such as mahogany, teak, and fig. A pond in the zoo's centre allows visitors to see nesting Pelicans, Storks, and Herons in their natural habitat.
The zoo is 3 kilometres from Thampanoor Bus Station, and any K.S.R.T.C bus on the Museum, Vellayambalam, Peroorkada, Sasthamangalam, Vattiyoorkavu, and Nedumangadu routes can take you there. Cabs and vehicles, in addition to buses, are readily accessible.
The park is open from 9:00 a.m. to 17:00 p.m. every day. On Mondays, it is closed. Adults pay Rs. 20 while children between the ages of 5 and 12 pay Rs. 5. The cost of a camera permit is Rs. 50/-.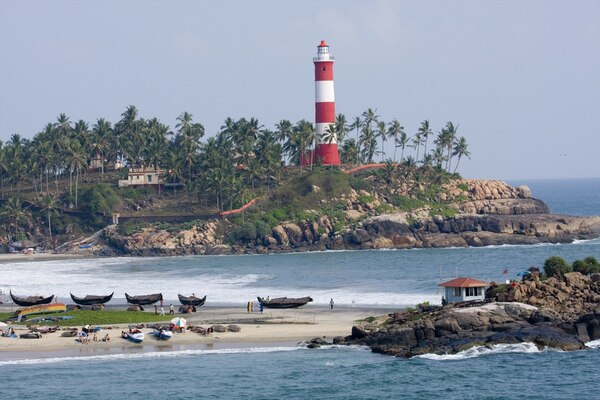 An historical lighthouse known as Vizhinjam lighthouse, which was built in 1925, is only 10 kilometres from Trivandrum city. The Vizhinjam lighthouse is Kovalam's highest lighthouse, with a breathtaking view of the sea. The surrounding beach became known as the Lighthouse beach as a result of this location. This 36-meter high tower, which stands at 57 metres above sea level, is only exposed to the public for 3 hours every day. As you ascend the 144 steps and a ladder to the top of the lighthouse, take in the breathtaking views of the Arabian Sea bordered with coconut trees. Vizhinjam beach, which is close to the lighthouse, is ideal for an evening stroll or cycling.
Surfing and motor boating are two of the most popular activities available on a visit to the lighthouse beach, which is close to the Vizhinjam lighthouse. Climb to the top of the lighthouse for a wonderful view of the sea. 3 to 6 p.m. is the visiting hour of light house. The lighthouse lamp is turned on at 5:30 p.m. and turned off at 6 a.m. the next day.
Adults pay a fee of ten rupees to see the Lighthouse in Trivandrum.
Children: 3 per person (3-12 years)
For foreign tourists, the cost is 25 per person.
20 for a still camera and twenty for a video camera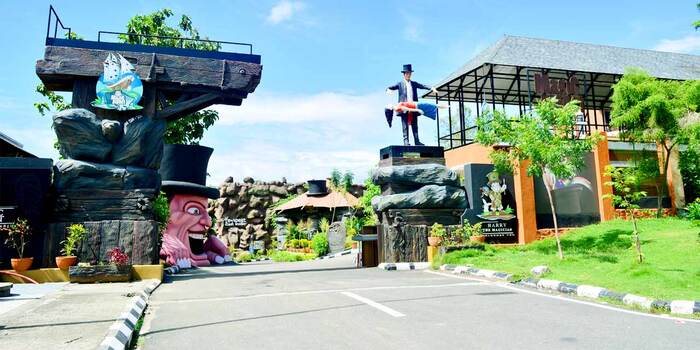 The Magic Planet, which claims to be the world's first magic themed park, is quickly becoming a popular tourist destination in Kerala. The doors to this magical castle have been opened to the public, with the goal of showcasing the wonders of magic and exploring its unlimited possibilities. It was developed with the goal of providing a permanent rehabilitation hub for street magicians who are on the point of extinction in our culture owing to a lack of platforms to showcase their unique abilities. It was also created to show the general public, including domestic tourists and foreign visitors to the state, the wonders and vast possibilities of magical art. A museum, an underground tunnel, a mirror maze, shadow plays, a virtual grocery to improve mathematics abilities, a children's park, a food court, live performance theatres, and an R&D centre are among the attractions.
The muthukad magic planet trivandrum explores all aspects of magic, including its history, Indian street magicians, and a variety of magic presentations that will delight visitors of all ages. Tickets will not be required for children under the age of four. Magic Planet is open from Tuesday to Sunday at 10:00 a.m. to 5:00 p.m.
Neyyar Dam and Wildlife Sanctuary
The Neyyar Wildlife Sanctuary, located 32 kilometres from Thiruvananthapuram, covers 12,000 acres of natural vegetation. The neighbouring Neyyar Dam is also well-known for its many attractions, the most notable of which is a gorgeous picnic place for families, friends, and single travellers alike. A picturesque Watch Tower, a Deer Park, a Lion Safari Park, and a Crocodile Rehabilitation and Research Centre are among the attractions. The sanctuary is also home to a variety of medicinal herbs, dense plantations, and meadows, all of which make for a beautiful sight. For nature lovers, even the ride to Neyyar Wildlife Sanctuary is a delight. The refuge offers various trekking paths in addition to its diverse vegetation and animals. One such route leads to the Agasthyamalai Peak, which stands at 1868 metres. Trekking enthusiasts and other locals visit to take in the scenery and spend time with friends and family.
Except on Mondays, the Neyyar Dam and Wildlife Sanctuary is open all year. So, plan a trip to the refuge on a relaxing day. From 9 a.m. until 4 p.m., it is open to the public. The safari ticket price in the Neyyar Wildlife Sanctuary is 250 per person for adults and 125 per person for youngsters (5 to 12 years). For children under the age of five, the charge is only 5. It costs 300 per person for overseas travellers.
A weekend drive to Ponmudi is one of the greatest ways to spend time in the capital city of Thiruvananthapuram, according to locals. Families and friends are known to take long journeys up the twisting trails in search of a view that they claim is unrivalled in the state. The mist-shrouded slopes inspire one with awe and wonder. Mountain flowers, wild orchids, and exotic butterflies are among the unusual flora and animals to be found here. Ponmudi has wonderful hiking routes that lead to many additional natural treasures that are hidden from the ordinary observer. You may spend the entire day walking along the exciting trails. The most popular walking track in Ponmudi, Varayadumotta, provides a panoramic view of the highlands as well as the Nilgiri Tahrs. It is an 18-kilometer walk that is considered one of the most difficult in Trivandrum (one side). To take advantage of this package, you must make a reservation in advance.